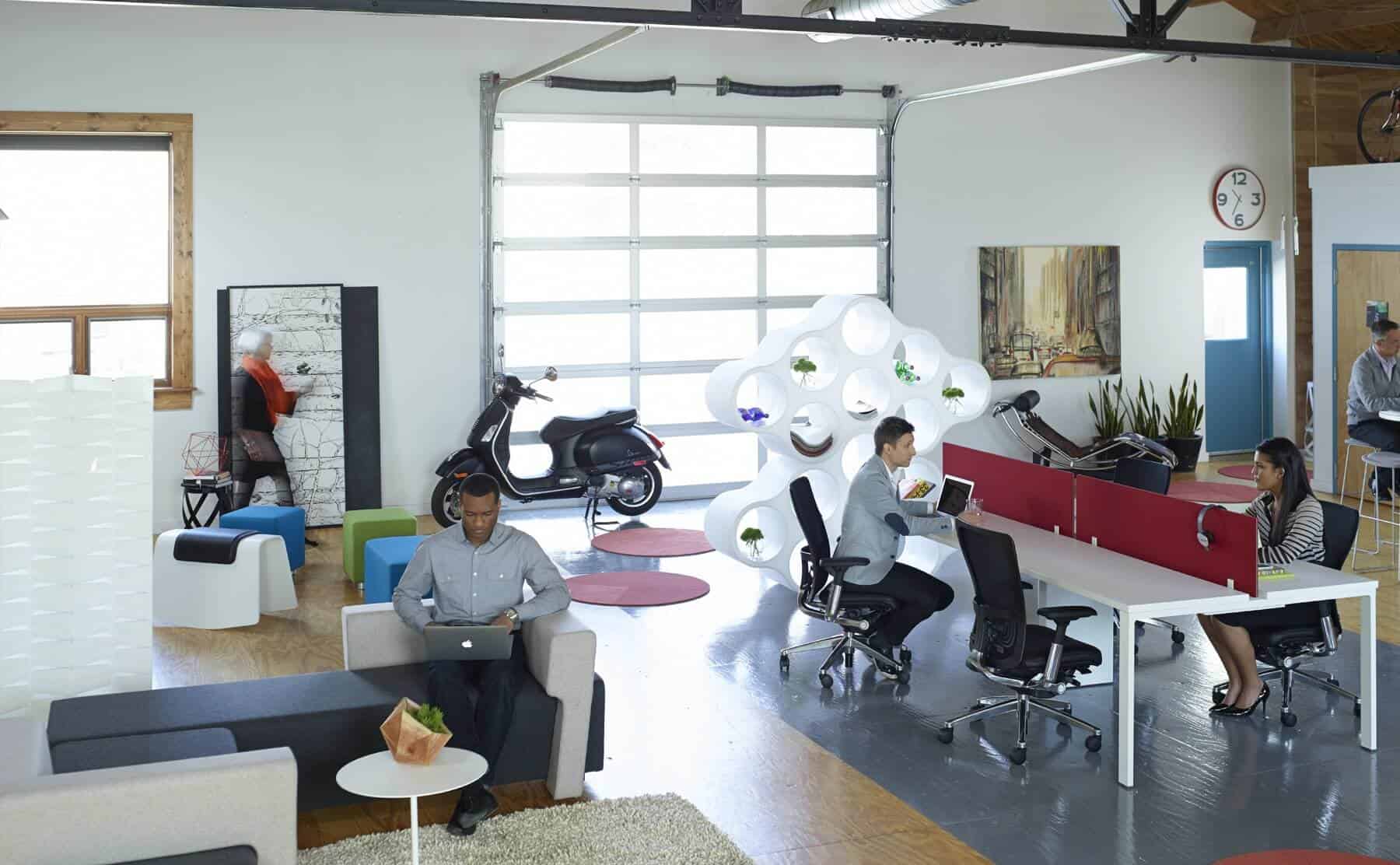 Alternative Workplace Benchmark Study
In these volatile economic times, organizations are looking for ways to reduce fixed costs and are closely examining their real estate portfolios, which are typically their largest expense after people and technology. Yet, many organizations ignore a largely untapped resource: acres of empty desks. Technology has freed employees to work virtually anywhere – and they are doing so each day.
A study by New Ways of Working, a member organization focused on alternative work styles and workplaces, found that more than a quarter of employees in leading-edge organizations do not work in a traditional workspace. Yet, 73% of respondents still assigned a dedicated workspace to these workers, therefore not realizing the full potential of space savings.
Even among those who "go to the office," many have no assigned workstation or office. Of those who were reported as mobile employees (13%), nearly half (45%) are mobile within the office – attending meetings, working collaboratively with team members, or checking emails while in the company cafeteria.
And these figures tell only the official story. "The actual mobility rate is much higher as employees don't wait to be formally enrolled in a program, but literally vote with their feet and seats, "says Joe Ouye, co-founder of New Ways of Working. "All they need is a laptop and a broadband connection."
Key findings from the survey:
• The top drivers for implementing alternative workplace solutions are employee related: work / life balance (81%), and attraction / retention (69%). Cost savings (66%) was the third-most frequently mentioned driver.
• A variety of work locations and workspaces are provided at leading companies including on-site flexi/drop-in/touchdown spaces (94%), homebased offices (78%), satellite offices (47%) and non-company locations (41%).
• Of all companies providing support for home work environments for employees, 69% had employees spending three or more days working at home, 8% spent two days working at home and 23% spent one day a week working at home.
• Thirteen percent of the employees in the survey are mobile employees. Of these, nearly half (45%) are internally mobile employees–mobile within the office.
• Mobile and home-based employees are consistently provided mobile hardware (laptops provided by 100%, mobile phones 88%, office furniture 44%) technical support, and expense reimbursements. Interestingly, although all provide laptops, only 59% pay for internet connectivity or telephone service.
• Two sectors — Manufacturing and Banking and Investment / Insurance — have more traditional, assigned-seat workers than do companies in other sectors (94% and 83% versus 70% to 55%).
• No surprise, middle management concerns continue to be the dominant barrier for implementing virtual work environments (81%). Other significant barriers include organizational culture (75%), executive buy-in/ endorsement (41%), security concerns (41%) staff concerns over the possibility of losing assigned space or location (41%) and funding (38%).
• Real estate divisions are the most common business unit that runs the alternative workplace program (59%). Human Resources departments runs the program in 22% of the cases.
• Most organizations use a variety of performance measurement metrics to measure the effectiveness of their workplace programs. Among them are employee satisfaction (69%), cost / workspace / footprint reduction (53%), and employee productivity (44%). Surprisingly, almost one fifth of the survey organizations (19%) have not instituted metrics for measuring program performance.
• Organizations with alternative workplaces also employ other alternative work options such as job sharing (50%), flexible work hours (91%), and part-time work (75%).
Publication date: August, 2008
About the survey: The Alternative Workplace Benchmark survey was conducted by New Ways of Working and sponsored by Sun Microsystems with assistance from the Helsinki University of Technology. Thirty-two Fortune 500 companies participated in the invitation-only web survey, representing a wide range of enterprises including finance, government, manufacturing, technology, healthcare, consulting, research, and construction. Organizations from Canada, USA, Finland, China and Germany participated. Surveys were completed online between May 12 and June 6 2008. Although some organizations requested anonymity, others granted permission to make their participation public. These organizations included Accenture, Autodesk, Bank of America, Hewlett-Packard, Johnson & Johnson, McKesson, Raytheon Missile Systems, Sun Microsystems and VTT Research Institute of Finland. Combined, all companies who participated represented about 1.5 million employees, ranging from 100 to 299,000 employees per organization. In order to obtain the full report, your organization must be a member of the New Ways of Working. The New Ways of Working is a community of researchers and practitioners for researching and understanding how organizational design, technologies, and places can be integrated for productivity and innovation. Haworth is a corporate sponsor and member. Please contact Al Stojanovich (al.stojanovich@newwow.net) for further information or visit www.newwow.net. P