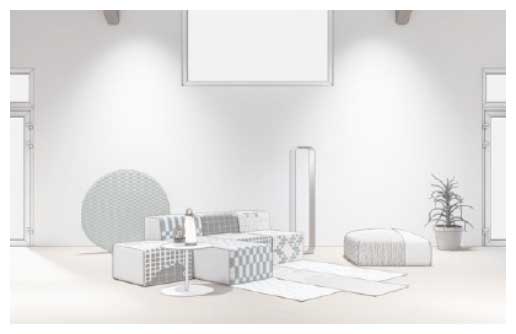 Contract Furniture Services
Our contract furniture services don't begin and end with furniture sales. Instead, our services start with you and your organization's uniqueness and continue as we to service and maintain your furniture and products for years and perhaps decades to come.
More specifically, our contract furniture services include:
Of these four main Contract Furniture Services, the first three are available individually. Project Management is available along with our full suite of services.
Commercial Interior Design Services
Your new office or interior space begins with imaginative commercial interior design. Whether you are starting with a specific vision, a general idea, a small inkling or nothing at all, our process and our design services will help create an amazing space for you and your organization.
Our commercial interior design services shepherd you through each step of the process.
Concept Design, Visioning and Imagery
Space Planning
Technical design
Space Reconfiguration
Finish Schemes + Renderings
Furniture Plans + Specifications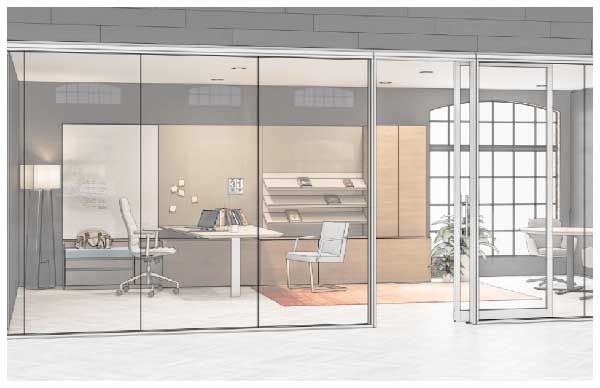 Let's Talk About Your Design and Furniture Project
Whether your project is Corporate, Government, Education, Hospitality or Healthcare, contact us today to speak with one of our interior designers.
Pacific Office Interiors Designs A Variety Of Spaces
We excel at all kinds of interior and exterior spaces, from public to private, corporate to governmental, from healthcare to hospitality. Which kind of space is your space? Whatever your answer, we can help.
Education Interior Design Services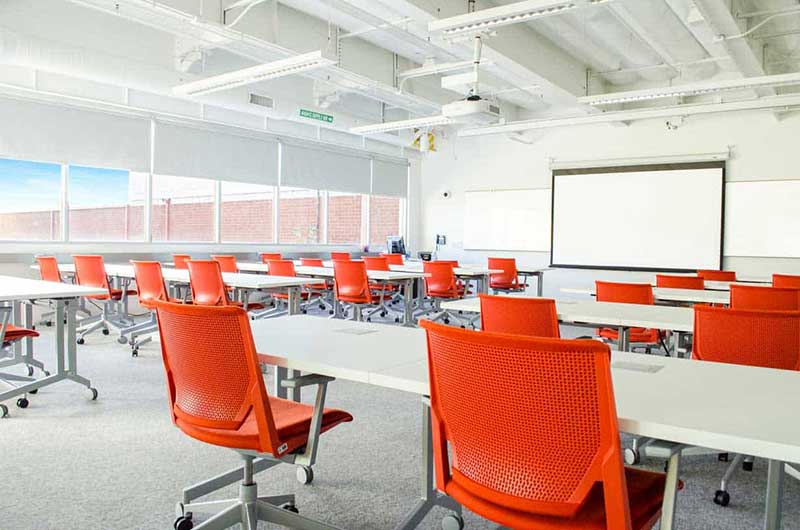 Education Interior Design Services can help you no matter what kind of educational institution you work with, your current design, your goals or your budget.
K-12 Projects to Higher Education
Classrooms, common areas, office, outdoor furniture, multi purpose rooms, dining areas, dorms, and other housing spaces.
We have a 30 year history of partnering with the largest public and private schools and institutions in California including USC, Santa Monica Malibu Unified School District, College of the Canyons.
Learn more about Education Interior Design Services and Furniture
Government Office Design Services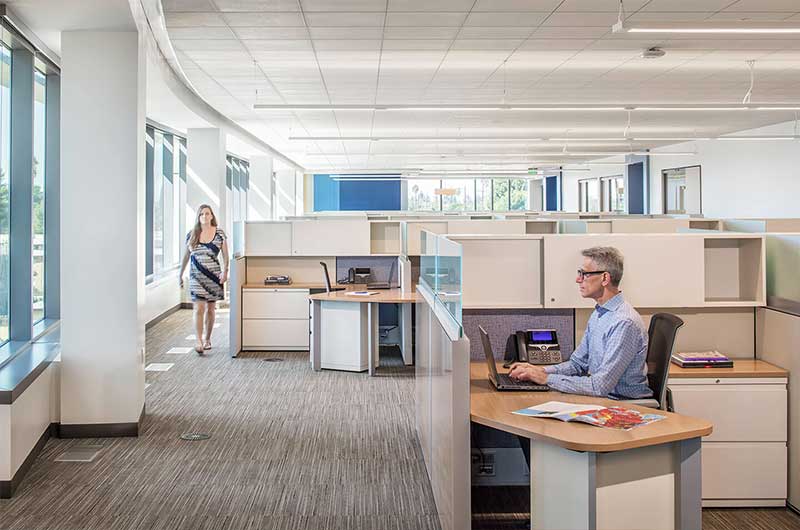 Planning and furnishing Government Offices can be challenging, time consuming and full of red tape. Our Government Office Design Services can help to improve, simplify and expedite the process so your project can be completed on time and within budget.
We enable easy ordering and fulfillment through our existing contracts with dozens of major manufacturers.
Expedited planning, ordering and fulfillment because most contracts are already in place, which speeds up your project.
Pre-contracted manufacturers have been vetted for projects just like yours.
Learn more about Government Interior Design Services and Furniture
Healthcare Interior Design Services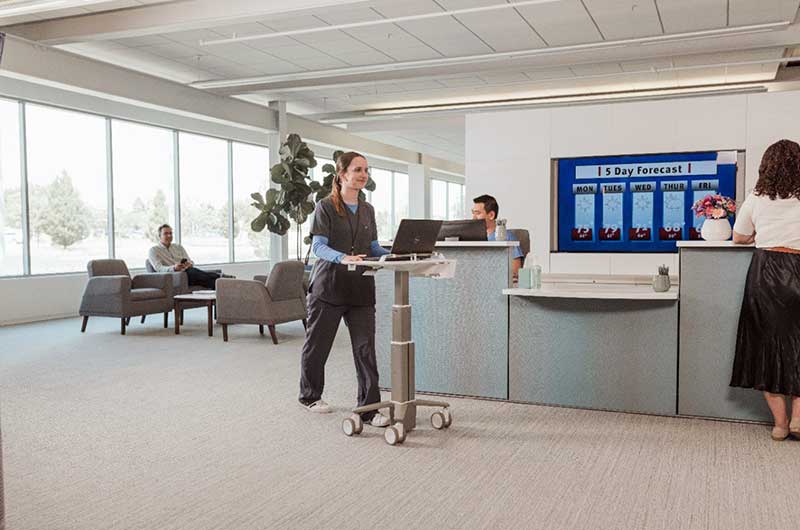 Nowhere is there more at stake than in the area of Healthcare spaces. Our Healthcare Interior Design Services can help make a space more efficient, which means better care for the patients, their families and staff.
At Pacific Office Interiors, we put the people at the center of the healthcare projects, from patient rooms to waiting rooms, nurses stations and doctor stations, and public areas like dining areas and gift shops.
We don't just design for the building or the budget: we design for the people who live and work in it.
Healthcare facilities, more than any other, require spaces and surfaces that can be sanitized with no uncertainty, including fabrics, coverings, metals and plastics.
Learn more about Healthcare Interior Design Services and Furniture
Hospitality Interior Design Services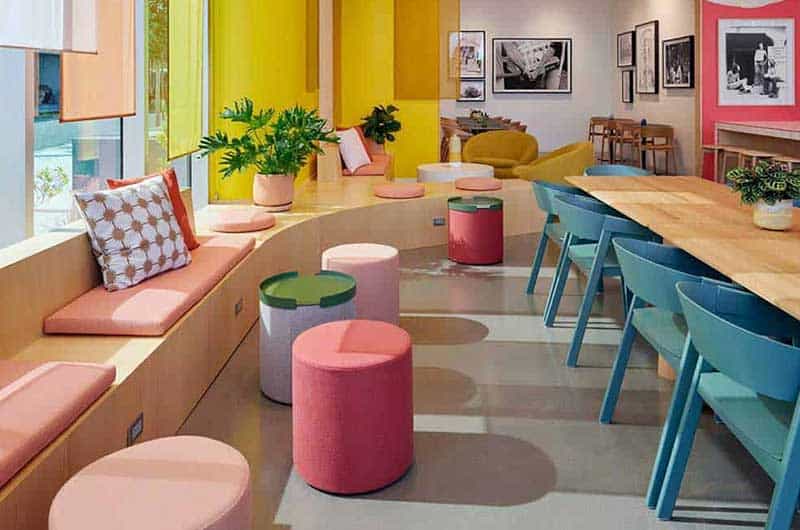 Guests and staff rely on hotels, restaurants, lobbies and other hospitality spaces to provide relief for long meetings and long trips…or just a space to relax and unwind. Our Hospitality Interior Design Services can make your hospitality space an attractive and comfortable destination your guests look forward to.
Hospitality spaces are designed to create a welcoming environment, from the lobby to the guest rooms, from the front desk to the restaurants: We design to your goals, budget and aesthetic.
Durability is important for all projects, but perhaps most important for high use public spaces like hotels and restaurants.
Learn more about Hospitality Interior Design Services and Furniture
Corporate Office Design Services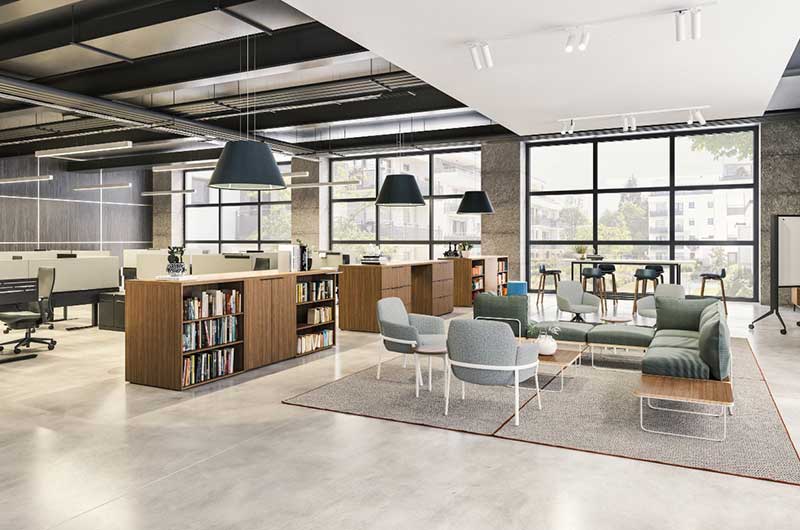 Office interiors are in our DNA…and our name. They have been our foundation since 1986, and since then we have not only understood the changing landscape of the modern office, we have been a driving force in changing it. As a result, we don't design for today or the next year or two, but we design for where your office will be in 5, 10, or 20 years from now. That's just one reason why companies seek us out for the best in Corporate Office Design Services.
Offices, Lobbies, Conference Rooms, Break Rooms and Third Places are all important parts of the modern office, and we design them all.
We design Corporate Offices, Branch offices and even small satellite offices.
Office Interiors often now extend to exterior spaces, and we design those, too.
Style, Ergonomics, Sustainability, Authenticity — whatever your goal, it's what we do.
Learn more about Corporate Office Interior Design Services and Furniture
Work From Home Design Services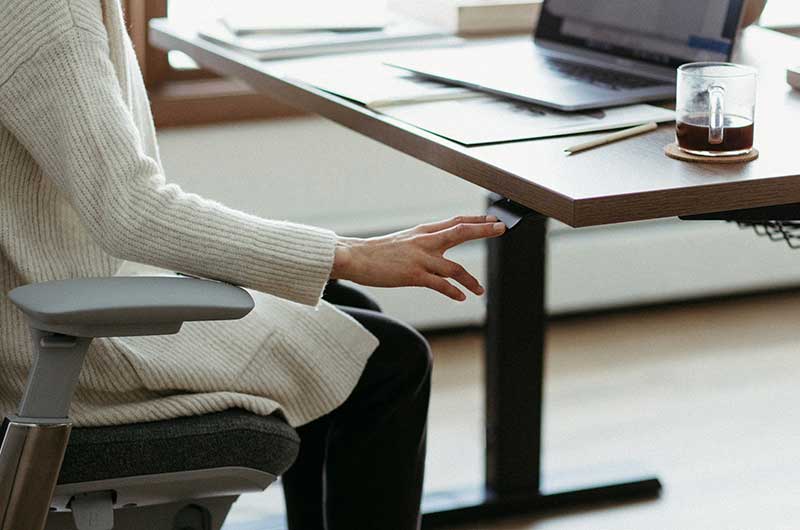 Working from home has almost always been a part of corporate life, but COVID-19 has accelerated the need for far more of your staff to work from outside of the office. Our Work From Home Design Services and products can help your employees to be just as productive, safe and comfortable at home as at the office.
Ergonomic solutions for almost any home environment.
From budget to luxury, and often both at the same time.
We offer Corporate Programs for large companies to offer the same ergonomic furniture at home as in the office.
We ship to your employees home, and install, too.
Commercial and Contract Furniture Sales
As one of the most respected interior and contract furniture dealers in California, our Commercial and Contract Furniture Sales services rely on our partnerships with an exclusively curated selection of manufacturers.
The companies we work with — the best available in each of their specialties — don't sell direct, but exclusively through dealers. That allows each of us to concentrate on what we each do best: They manufacture and we design your space, manage all procurement, oversee and track installation, and service the furniture for years and decades to come.
More often than not, the solutions from one manufacturer will not be appropriate for a particular space, so we custom-curate a solution that involves a combination of products from as many as 20 manufacturers.
We, not only design, build and maintain great spaces, we design, build and maintain solid relationships with each of the manufacturers so we can provide the best solutions for your project.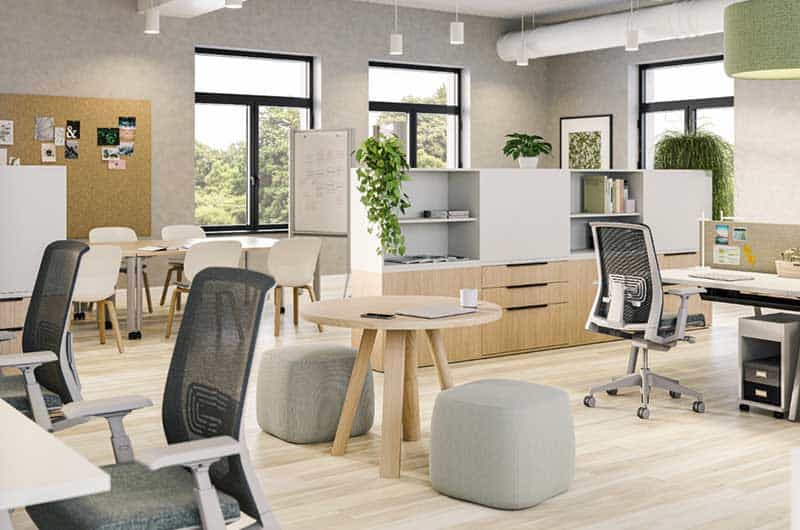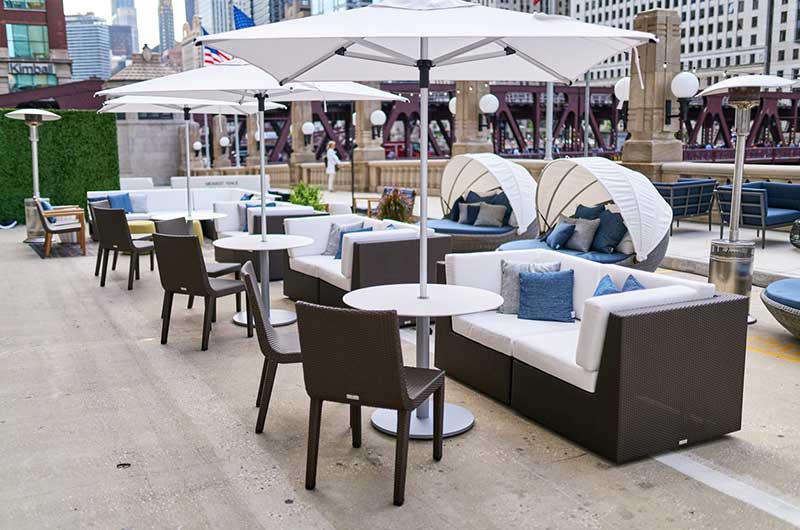 Whatever the case, we choose the right products for your solution. Among our most popular brands are:
Let's Talk About Your Design and Furniture Project
Whether your project is Corporate, Government, Education, Hospitality, Healthcare or something else, contact us today to speak with one of our interior designers.
Furniture Warehousing, Delivery and Installation
Smaller Commercial and Contract Furniture dealers typically have small warehouses or no warehouses at all. Some trust your valuable furniture to rented trucks, and even outsourced day-labor installers. That's not how things work at Pacific Office Interiors. At POI, with our Furniture Warehousing, Delivery and Installation Services, everything is in-house and under our control. We feature…
Our Own Furniture Warehouse
Because we have our own warehouse space here in Los Angeles, we are able to bring the furniture to our space, and hold it until it's needed. That gives us more control over your project and makes us less dependent on manufacturers' delivery schedules, and more accommodating to your requirements. This is more important than ever given today's supply chain issues.
Our Own Fleet of Trucks
Your furniture comes direct from the manufacturer, protected and packaged at the factory. It's our job to get it to your facility in the same perfect condition. Every piece we deliver, from the smallest desk accessories to the largest furniture or artwork receives the same high level of care and attention during delivery, and there is no better way to provide that than with our own fleet of well-maintained delivery trucks.
And our service and maintenance crew ride in company-owned, fully-stocked vehicles as well so we can be sure that we'll have everything they'll need to service your products.
Our Own Installers
Today's office furniture and fixtures are highly designed complex pieces of engineering. Installation is much more than just dropping off the components and turning a few screws. There is very often precision placement and electronics involved.
But because our furniture is delivered and installed by our own employees, you won't be working with outsourced contractors or strangers. Working on your behalf is a crew of properly trained professional furniture installers certified in modular furniture installation.
So whether you've got a simple one-room installation, or a multi-building, multi-floor, multi-phase project, we can manage it all.
Speaking of management, every installation is headed by one of our Lead Installers, each with a minimum of 10 years of experience. You'll have one point of contact to ensure the project is installed to your expectations.
Contract Furniture Project Management
There are hundreds or even thousands of details to be managed for even the smallest office furniture and design project. Our project management services start at the very beginning of our relationship, when every project is assigned a Job Captain. This Pacific Office Interiors senior staff member is in charge of all aspects of your project and is ultimately responsible for making sure your needs are met and that your project is successful.
Your Job Captain will work with you and our team to establish a concept design, develop a budget, and a project schedule. Then he or she will help to keep your project on schedule and meeting all milestones, as well as coordinating the trades that will install your new interior or exterior furniture. Our on-site project management means that we will be on-site as needed to make sure everything is going great.
And all the while, your Job Captain will be responsible for communicating and reporting to you about the progress of the project.
We've refined our proven processes for managing project complexities through thousands of successful contract furniture projects since 1986. Our project management team helps to get your project completed on schedule and within budget.
Contact Pacific Office Interiors Today
No matter what kind of space you are designing, the Contract Furniture Services at Pacific Office Interiors are the right choice for you. Contact Pacific Office Interiors today, email us at hello@poi.bz or call us at 818.735.0333.
Contact Details
Doing our best work, so your team can do theirs