Interior design and furniture for education is one of Pacific Office Interiors' specialties. We blend our knowledge of the constantly evolving needs of educational institutions with experience garnered from successful projects to produce solutions that delight and work. We'd love to show you how we can do the same for your project.
The Pacific Office Interiors Approach – Putting You First
Our approach to design and furniture for educational institutions is different from that of other companies. We show up to our first meeting together with an open mind, an attentive ear, perpetual curiosity and a blank pad of paper.
Our goal? To make sure we know about you, your faculty, your educational philosophy, your students, your budget, your needs, and how you define the perfect outcome.
In short, we put you first.
The Face of Educational Furniture is Changing – Rapidly
Pacific Office Interiors' success with interior design and furniture for education projects spans more than 35 years. During that time, we've been fortunate to work with leading educators at all levels, including:
Working with our educational clients exposes us to emerging and innovative trends in delivering educational excellence. Among these are:
Expanding requirements for IT rooms
Technology bars
Power and network connections throughout
Flexible and easily reconfigurable spaces
Use of virtual reality equipment for both learning and meeting
Providing for hybrid learning environments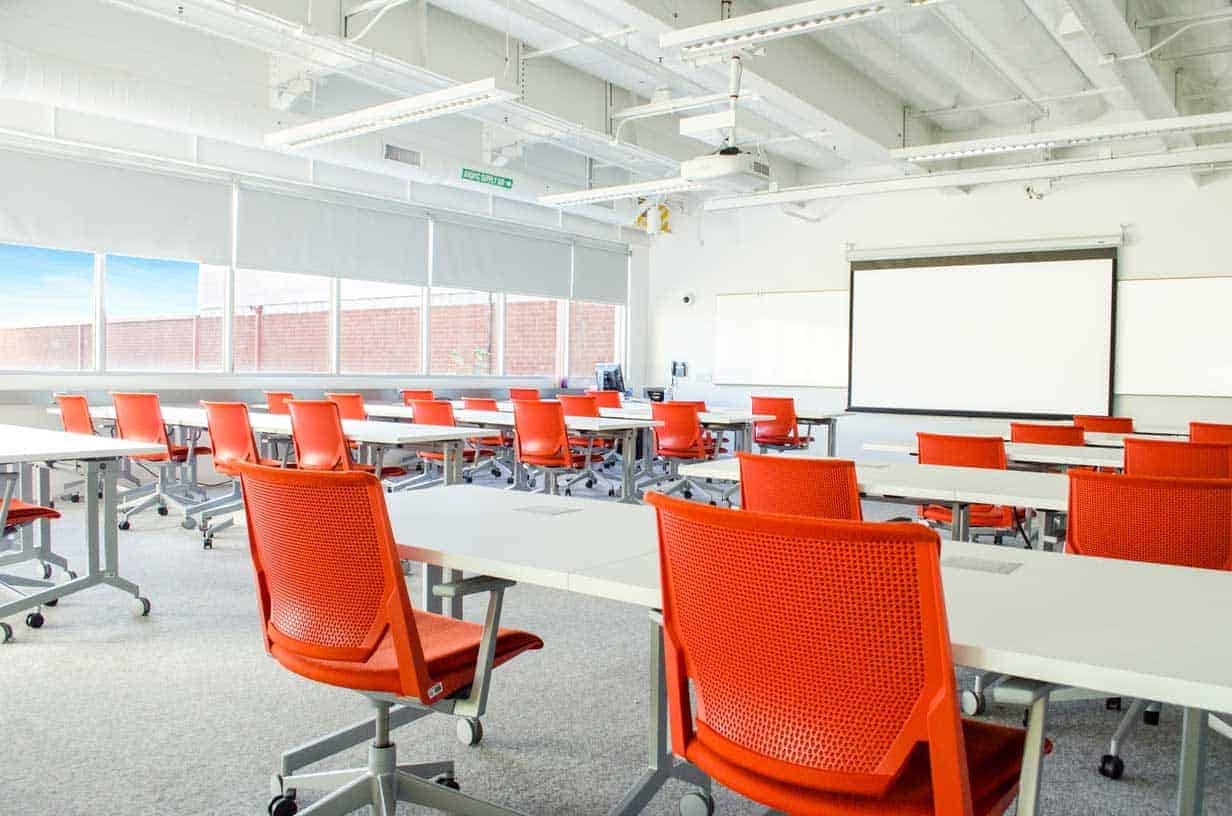 Classrooms
Food Service
Gymnasiums
Athletics – Swimming, Track, Basketball, Volleyball and Field Sports – Indoor and Outdoor
Locker Rooms
Collaboration Spaces
Gathering and Community Spaces
Quiet Spaces
Libraries
Laboratories
Greenhouses and Agricultural Facilities
Private Offices – Administration, Teachers, Counseling
Performing Arts Spaces
Art Spaces
Computer Labs
Housing – Dormitories, Apartments, Group or Special Interest Housing
Student Lounges
Conferences
Presentations and Meetings
Medical Services
Reception and Visitor Management
The best design for any educational project seamlessly integrates traditional concepts and existing resources with today's requirements. We often recommend reusing functional furniture already in place in combination with the latest products to help you stretch project budget dollars while supporting new educational space needs.
The needs of College and University projects have the added element of creating and maintaining a self-contained community with everything students need from housing to shopping to dining to fitness.
Project Spotlight: USC West 27th Place – Innovative Multi-Use Student Space, features reconfigurable common areas for informal meetings and study collaboration, dining areas with a cafe vibe and seating
Project Spotlight: Standardized Yet Individualized Student Organization Space Design at USC features budget-saving consistent furniture selections with varying designs, colors and fabrics to make each of these Student Organization Spaces unique.
What Do Educators in the 21st Century Want?
Students and educators alike want to learn and teach in a comfortable environment, providing ease of reconfiguration, integrating technological tools, and accommodating different learning styles.
Space Use Flexibility
The ability to reconfigure a space is all about adapting the physical environment to take advantage of spontaneous educational opportunities and supporting multiple uses of a single space. This flexibility demands a design and furniture for education that is reconfigurable and modular, sometimes to the point that walls can be repositioned as needed.
Technology Support
The continuing digital evolution within education dictates ubiquitous technology support. Properly supporting a population of learners who are equipped with one or more digital devices is driving another development, technology-enabled furniture.
Leading manufacturers now offer technology-enabled furniture as standard options in their educational furniture lines. Enabling students and educators to connect, collaborate, study and learn regardless of where they are in a building or across campus requires furniture with a power and connectivity capability.
Project Spotlight: Santa Monica-Malibu Unified School District Middle High School – Designing for 21st Century Learning, features flexible space and furnishings, seating choices to match learning styles.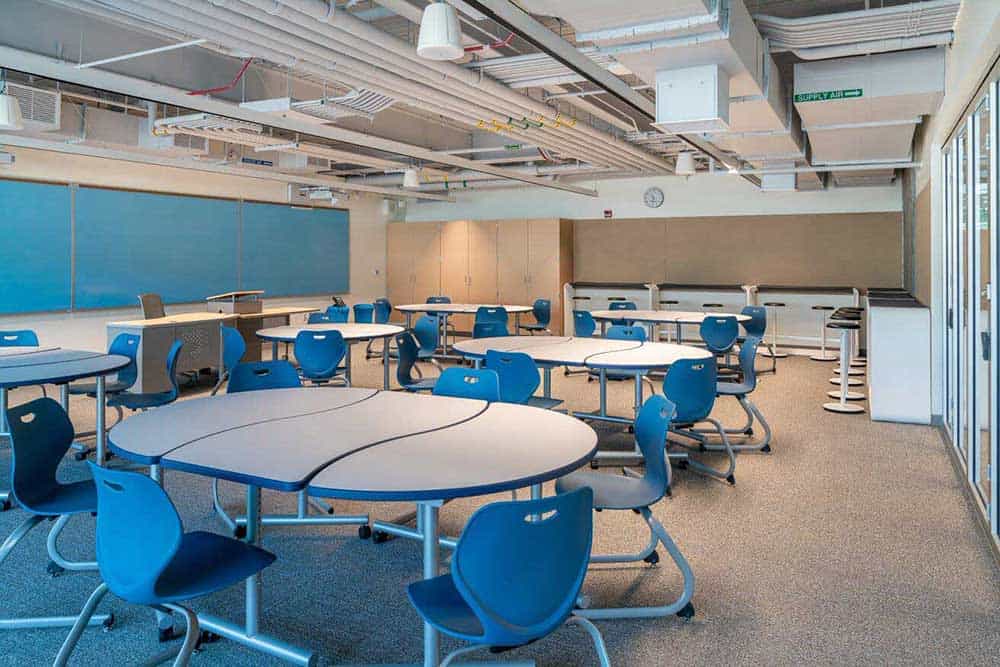 Hybrid Educational Environments
Just as "work from home" has emerged as a permanent fixture of the work world, "learn from home" is rapidly establishing itself as a present and future educational mode. While not a new concept at the college and university level, K-12 facilities now face this challenge in response to pandemic mandates to limit or eliminate on-site classes while still continuing to educate their students.
A hybrid model — part virtual and part in person — is emerging across the educational landscape. Student engagement is always top of mind for educators as learners can disconnect, even in a physical classroom. Today schools are offering a range of educational options; full-time on-site, full-time virtual (learn from home) or a combination, the hybrid model.
Supporting a hybrid approach requires learning spaces easily adaptable to a mixed learning environment. Learning spaces must accommodate on-site and virtual students while maintaining peer interaction, engagement and connection with and between all students. Pacific Office Interiors' hybrid space design and implementation will be a great asset to you on your hybrid educational project.
How We Work
The Pacific Office Interiors Studio manages all aspects of design and specifications for our clients. Each person in this department has a degree in Interior Design. At our first meeting, you'll meet your Project Captain, who will be your dedicated point of contact throughout the project. Our Project Captains are responsible for developing a detailed understanding of you and your project. They shepherd you through the design process to ensure all details are covered and the end result will meet your expectations.
Once you are satisfied with the design, the Project Captain will lead you through the final furniture and furnishing selection. Myriad other steps follow from placing and tracking orders, inspecting site progress, double-checking installation and more. They are responsible for your design and furniture for education until you are satisfied and have accepted the job. We think you deserve this level of attention.
Small Business Enterprise Purchasing for Educational Institutions
Is your organization required to make purchases from Small Business Enterprises? Pacific Office Interiors is a certified small business enterprise furniture dealer in Los Angeles with decades of experience in dealing furniture to campuses all over California.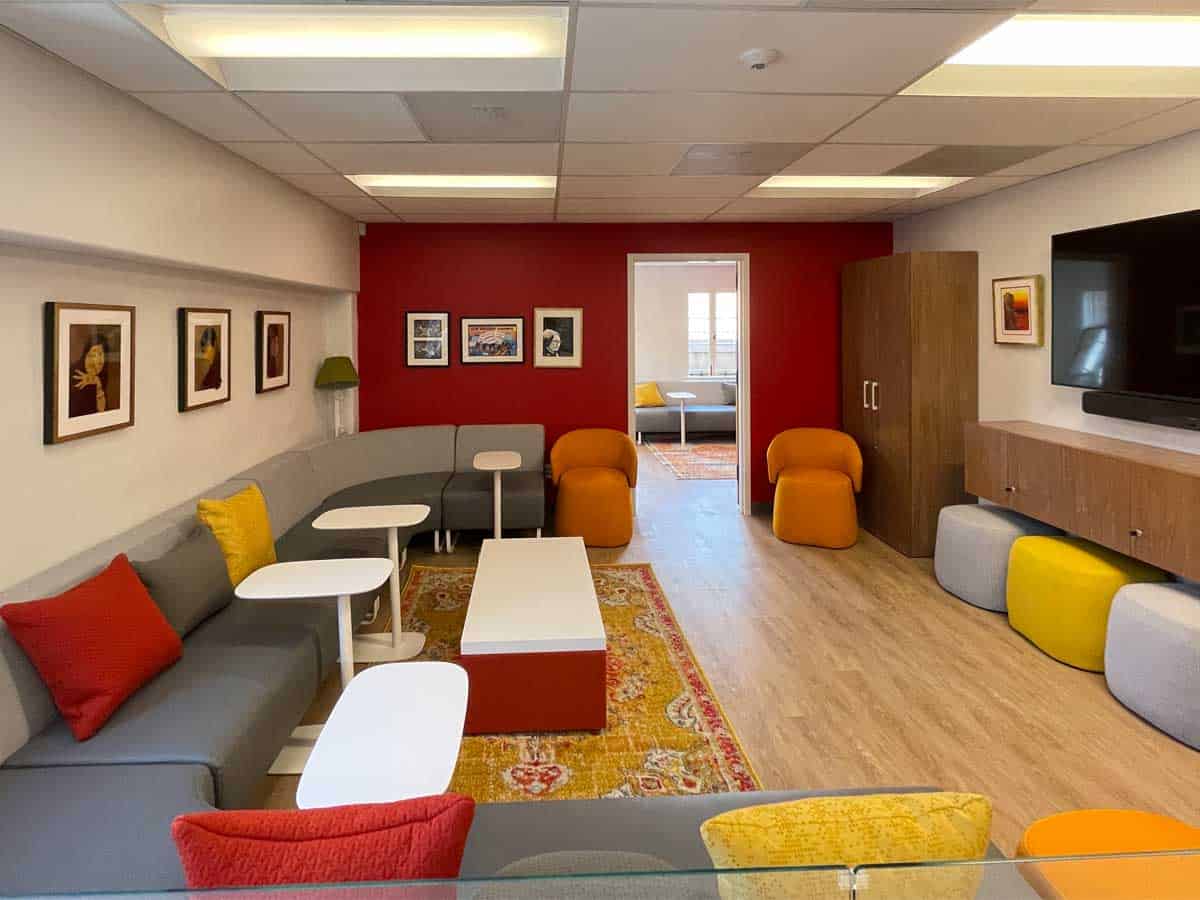 Talk to Us About Your Interior Design and Furniture for Education Needs
Let Pacific Office Interiors bring its unique design and furniture for education spaces approach to your project. We've developed a process that is unlike any other and enables our team to combine the best practices from many market segments with our experience in education to deliver the design, furniture, and furnishings that meet your unique educational needs.
Does your educational institution have access to Competitively Solicited Cooperative Purchasing Agreements? Learn how Pacific Office Interiors can help to streamline the process of acquiring furniture as well as reduce costs due to best-value pricing!
Check out our Design and Furniture for Educational Spaces, contact Pacific Office Interiors today, email us at hello@poi.bz or call us at 818.735.0333 to learn more about how we can meet your needs.