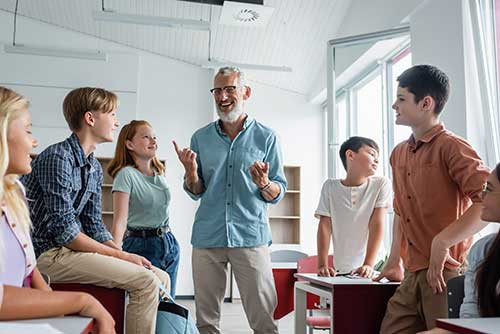 Administrators who buy furniture for K-12 schools today face more challenges than ever. Shrinking budgets and limited space create the need for adaptable space designs to support multiple uses and evolving teaching styles. At the same time, technology, which has crept into every part of education, needs power and network connectivity throughout schools, inside and out.
Meeting these needs puts the fixed-wall classroom with neat rows and columns of desks squarely on the endangered species list. If the old space designs and educational approaches no longer meet current demands, then neither does traditional furniture for K-12 Schools. Successfully supporting your K-12 schools means changing the furniture you specify and install. So how do you buy elementary school, middle school or high school furniture today to meet the changing needs of tomorrow? By working with a full-service design and furniture firm like Pacific Office Interiors.
Not only is Pacific Office Interiors a leading Southern California interior designer and furniture dealer for educational institutions, we are a 2021 Best-In-Class Haworth Dealer in Los Angeles and a Certified California Small Business, approved by the California Department of General Services, and a Local Small Business for the County of Los Angeles. Read more about our small business certifications.
In This Article
In this article, find information about:
For K-12 School Furniture, One Size Does Not Fit All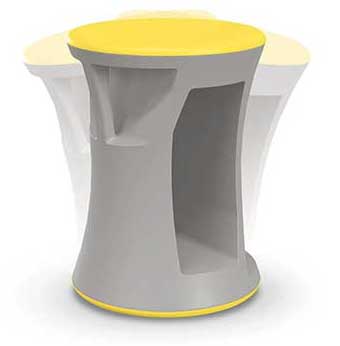 Several differences exist between furniture for Pre-K, elementary, middle and high schools as opposed to furniture for colleges and universities. For instance, we source furniture for a typical local school furniture project from more manufacturers than one for higher education. Why? Because unlike designing for a college or university project (where most students are adult-sized), school projects need furniture for every student's age, size and learning style, and no single furniture manufacturer provides a solution for them all. A manufacturer with the ideal furniture for a kindergarten may not have products suitable for a 5th-grade library or middle school classroom.
Also, while all furniture needs to be durable and reliable, furniture for K-12 schools takes more abuse than furniture at colleges and universities, calling for high-quality, durable and reliable furniture designed specifically for K-12 schools. And, because teacher attention is at a premium, furniture that doesn't work correctly interrupts classes, distracts students and wastes instructional time.
Furniture for Pre-Kindergarten, Kindergarten and First Grade
Furniture for children 2 to 6 years old must accommodate students' smaller and varied stature. This means Pre-K, Kindergarten and 1st Grade schools need multiple furniture sizes, including chairs, desks, tables and seating alternatives. Pacific Office Interiors understands the challenge of finding the best furniture manufacturers for these grades. So, we partner with several premium quality companies serving this segment, enabling us to meet your "small furniture" needs.
Chairs and Desks for More Active Students
Teachers have traditionally frowned upon children moving while in class. But now, studies show that some children learn better when they can move and aren't required to sit still. One of our furniture manufacturers, MooreCo, offers stools that allow students to move. MooreCo's Hierarchy Flipz Stool allows students to rock side-to-side, offers integrated storage and stacks neatly when a program calls for a larger open space.
Desks for elementary school students look and work differently than the sturdy wood chair with fixed writing surfaces of years ago. Products like MooreCo's Enroll Tablet Chair provide a swiveling seat that enables students to shift their focus as needed. The chair even includes under seat storage for books and backpacks and offers two choices of adjustable work surfaces: one made from rugged polycarbonate and the other, a whiteboard work surface. Jonticraft manufactures a line of well-made wooden furniture for Pre-K through 1st-grade projects for the purists preferring a more traditional classroom feel.
Elementary School Storage and Organization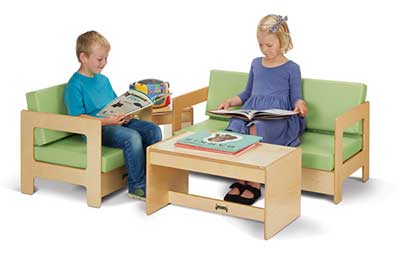 Elementary school students play more and use more supplies than older students, so their classrooms need a lot of storage for toys, art supplies and other project materials. Storage and organization options include cubbies, bookshelves, coat hooks and moveable shelf units.
Let's Talk About Your Design and Furniture Project
Whether your project is Corporate, Government, Education, Hospitality or Healthcare, contact us today to speak with one of our interior designers.
Furniture for Flexible-Use Spaces
Because of limited space and shrinking budgets, K-12 schools must use some areas for multiple purposes, earning a "flexible-use" description for the spaces. For example, making a space flexible can be as simple as stacking chairs to one side to practice a skit or as extensive as converting the cafeteria into an assembly hall. Frequent furniture reconfiguration places extra stress and wear and tear on the furniture, requiring furniture specifically built to withstand the frequent rearrangement required for flexible K-12 spaces.
Furniture for Middle and High Schools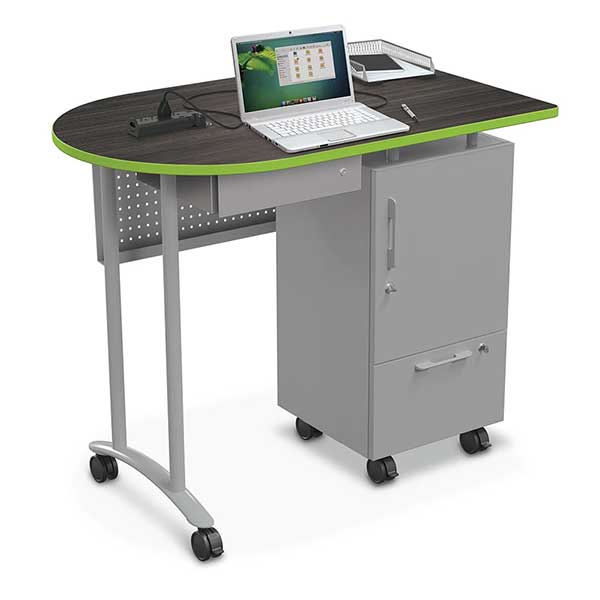 Once students enter middle school, they can comfortably use the same height seats and work surfaces, simplifying middle school furniture selection. We commonly provide all-in-one desks with a fliptop tablet surface and under seat storage for books, backpacks and other personal items. Where a classroom's layout changes frequently, the MooreCo Mobile Teacher Workstation II enables teachers to move their desk, laptop and teaching essentials anywhere in the room.
The requirements for middle and high school faculty, staff and administration offices and support areas differ little from that of lower grade levels, with some exceptions. For example, middle and high schools need physical education and sports facilities including locker rooms, weight rooms, courts, trophy cases and fan seating. Another requirement calls for fire-resistant record storage. Meeting California state record retention guidelines requires lots of file storage, some of which must comply with a California law requiring fire-resistant file cabinets for specific student records.
Technology-Enabled Furniture
Classes and teacher/student communications increasingly depend on access to internet resources. As a result, we see more technology-enabled furniture in middle and high schools. Examples of this technology enabled middle school and high school furniture include group desks with power and network connections, individual desks with adjustable tablet work surfaces and modular seating in common areas with power and network connectivity. Ubiquitous power and network access enable middle and high school students to collaborate on projects and access online resources from anywhere, inside and outside the school.
Furniture for Maker Spaces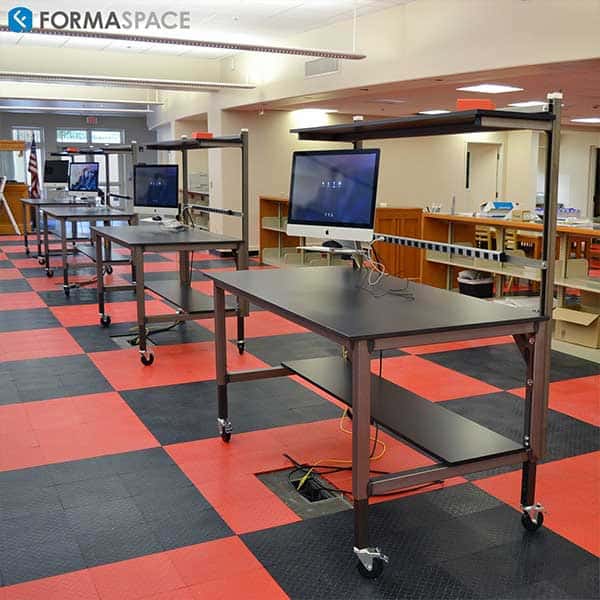 Maker spaces need rugged and flexible furniture where students can play, experiment, explore, and tinker. For example, the best maker space tables feature rugged, workbench-style maple tops and casters, allowing easy reconfiguration for projects. Seating tends toward stools that give "makers" a free range of motion. Finally, maker spaces need furniture with ample storage, some with locks, to house tools, materials, unfinished projects and more. We often work with FormaSpace for maker space furniture projects.
Furniture for Science Labs and Computer Labs
Furniture for science laboratories needs chemical-resistant work surfaces and often connections to water, gas, and power, depending on the science taught there. But almost all science labs also benefit from technology-enabled furniture and internet access to support more complex experiments.
Furniture for computer labs needs technology storage cabinets, racks, a higher number of power outlets per student and, of course, network connections.
Furniture for Middle and High School Outdoor Spaces
Outdoor spaces in schools must also support multiple uses. Besides exercise and socialization, middle and high schools are turning to the outdoors for classes and student collaboration. Using furniture not designed for outdoor use will reduce its reliability and durability, meaning higher maintenance costs and more frequent replacement.
Outdoor school furniture must also allow for easy reconfiguration, whether for a spur-of-the-moment class session, friends gathering for a snack or a group meeting on a school project.
Furniture for Fun High School Student Spaces
Taking the lead from colleges and universities, many high schools now provide fun and interesting spaces for students to hang out, both indoors and outside. Schools today furnish these spaces with lounge-style seating, reconfigurable tables and chairs promoting small and large group study sessions, encouraging socialization and providing distraction-free zones.
Furniture for K-12 Schools at Pacific Office Interiors
No matter what kind of space you are designing — whether it's a single room or an entire campus — Pacific Office Interiors can help. We have the experience, resources and access to the right school furniture manufacturers to take your project from inception to completion. Contact us to discuss your elementary school, middle school or high school project today. Does your educational institution need to purchase from Small Business Enterprises? Pacific Office Interiors is a certified small business enterprise furniture dealer located in Los Angeles with decades of experience in dealing furniture to campuses all over California. Also, learn how POI can lower costs of acquiring furniture for your school with the use of Competitively Solicited Cooperative Purchasing Agreements.
Let's Talk About Your Design and Furniture Project
Whether your project is Corporate, Government, Education, Hospitality, Healthcare or something else, contact us today to speak with one of our interior designers.
Doing our best work, so your team can do theirs