Premium Furniture and Products for Interior Spaces
.
At Pacific Office Interiors in Los Angeles, we partner with hundreds of manufacturers to curate a wide range of creative solutions that move your vision from concept to reality. However, the finest furniture and products are only as good as the design of the interior spaces they occupy. This is where we add significant value; we use the "raw materials" of our fine furniture and related products and turn them into extraordinary spaces using:
Our talented, experienced staff
A management process that leaves nothing to chance
An unwavering commitment to creating spaces that inspire
Underscoring everything we do are seven simple, but powerful fundamentals. We…
Listen intently to you and your vision for your space and for how people will use it
Design spaces to deliver the best ergonomics
Source and provide only the highest quality products
Promote sustainability by seeking out providers with an environmental mindset
Weave work-life balance into the fabric of every design
Support and inspire your Work from Home/Work from Anywhere initiatives
Bring your vision to life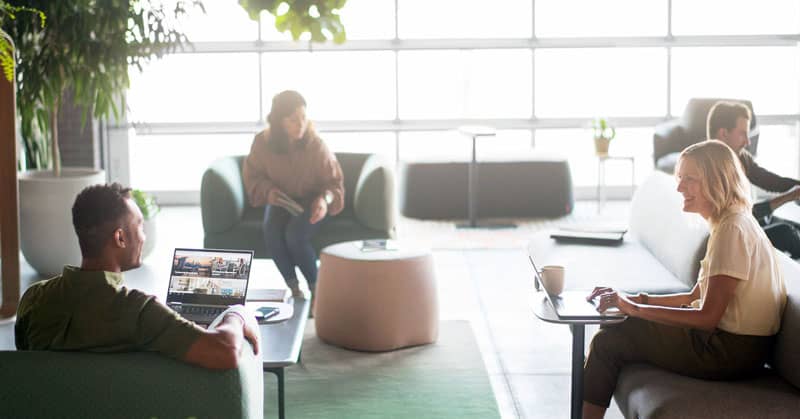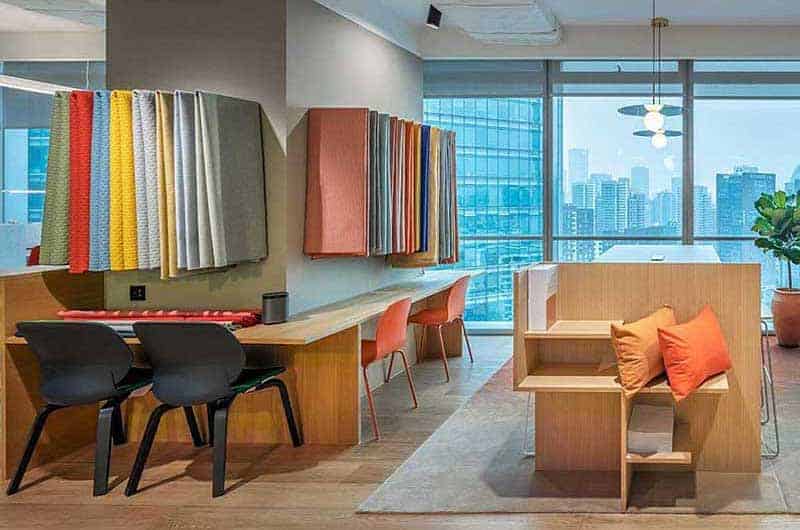 Where We Excel
Pacific Office Interiors works with organizations headquartered in Southern California — and in particular the Greater Los Angeles area — who value partnering with experts to deliver high performance spaces that reflect them at their best, and helps them to become even better.
While COVID illuminated the need for flexible workspaces, the movement towards a different, more effective space for work and learning has been developing for several years. We have invested in resources, skills, and partnerships not only to support this movement, but to shape it.
Today, our combination of space design, project management, installation, and best-in-class furniture and products for interior spaces is serving clients in every conceivable situation. So, are there areas where our company excels in providing furniture and products for interior spaces? Indeed there are, but we can design your space — including Exterior Spaces — even if it doesn't fit into one of the categories below.
Furniture for Educational Spaces
Technology continues to drive the evolution of education and educational spaces and so furniture and interior space design is far more complex than just a few years ago. A desk and a locker have been replaced with flexible spaces that adapt to meet different learning styles, specially-abled students, diverse student and faculty bodies and to support distance learning. Designers must consider any space as a potential location for learning. For more than 30 years, we have been working with K-12 school districts and colleges and universities to build in flexible space utilization so they can meet changing educational requirements. Our partners and staff will design and furnish every space including classrooms, cafeterias, multi-purpose spaces, offices, dorms, outdoor spaces and more.
Educational spaces can be especially challenging to furnish. In our experience, we've found that products from Haworth and MooreCo excel in these environments.
Among our educational space clients are the University of Southern California, Los Angeles Community College District, Santa Monica College and the Santa Monica-Malibu Unified School District.
Learn More About Furniture for Educational Spaces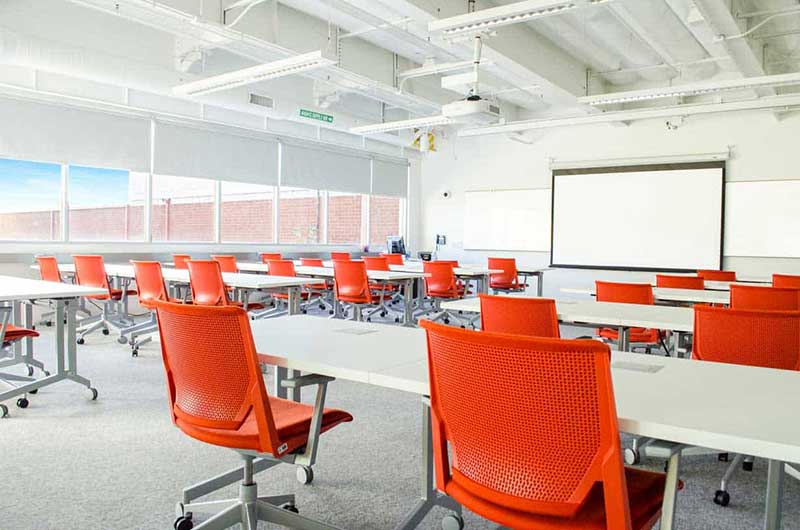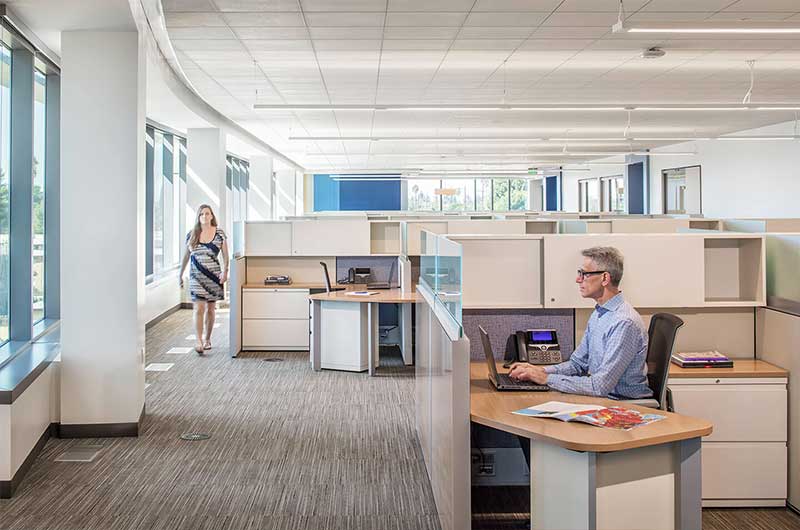 Furniture for Government Spaces
Furniture and products for government spaces bring their own special requirements. Not in terms of design and space utilization, but in procurement. Pacific Office Interiors is your source for rapid procurement and completion of your project.
Because of our relationships with dozens of major manufacturers, many of which have competitively solicited and publicly-awarded cooperative purchasing contracts, you can take advantage of expedited planning, ordering and fulfillment.
Pre-Contracted Vendors we work with and often recommend include Haworth, SitOnIt, OFS and AIS.
Some of our notable Government clients include the County of Los Angeles, City of Agoura Hills, and City of Thousand Oaks.
Learn More About Furniture for Government Spaces
Let's Talk About Your Design and Furniture Project
Whether your project is Corporate, Government, Education, Hospitality, Healthcare or something else, contact us today to speak with one of our interior designers.
Furniture for Healthcare Spaces
Pacific Office Interiors always puts people at the center of our designs, and nowhere is it more important than in healthcare facilities. From patient rooms to waiting rooms, nurses stations and doctor stations, and public areas like dining areas and gift shops, healthcare facilities must accommodate a diverse population of patients, doctors, nurses, other caregivers, visitors and support staff.
Furniture and products for healthcare spaces not only need to allow for flexible space use but also support and simplify cleaning and sanitization to medical standards including fabrics, coverings, metals and plastics.
To meet the specialized needs of healthcare spaces, we find furniture and products from Carolina, Haworth Health Environments and Stance Healthcare.
We are meeting the healthcare space design and furniture needs of facilities like the Kaiser Permanente, Cedars-Sinai, County of Los Angeles and Childrens Hospital of Los Angeles.
Learn More About Furniture for Healthcare Spaces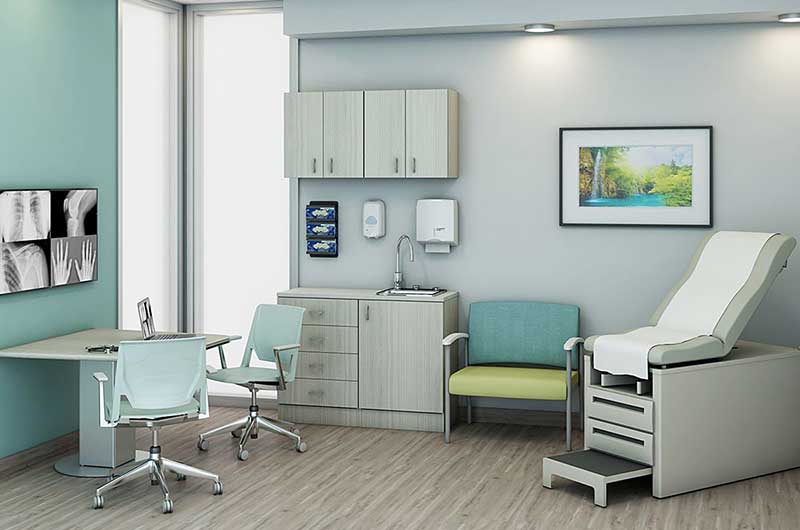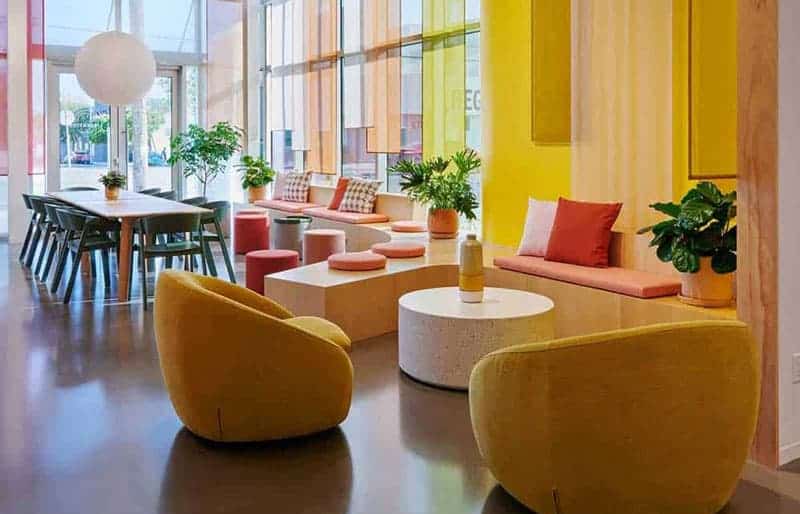 Furniture for Hospitality Spaces
Hospitality spaces are designed to create a welcoming space, from the lobby to the guest rooms, from the front desk to the restaurants. An important key to making this a reality in the furniture and products used to deliver and maintain this experience. At Pacific Office Interiors, we design to your goals, budget and aesthetic.
Durability is a necessity for all projects, but perhaps is the most important requirement for high use public spaces like hotels and restaurants. Durability must be complimented by a design that meets the aesthetic requirements when choosing furniture and products for hospitality spaces.
When designing for our hospitality clients, we frequently turn to the furniture and other products provided by Haworth, Allermuir, Arcadia, Davis and Furniture Lab.
Treat yourself by visiting some of our Greater Los Angeles hospitality clients such as Liberation Coffee House, USC West 27th Place and Luther Burbank Savings and enjoy a fine dinner or weekend away. Or, if you prefer, give us a call so we can discuss your project together.
Learn More About Furniture for Hospitality Spaces
Furniture for Corporate Spaces
Office interiors are in our DNA…and our name. Delivering designs, furniture and products for corporate spaces have been our foundation since 1986. However, we haven't merely adapted to satisfy the latest trend, pulling from our resources to meet your specifications. Instead, we have developed a deep understanding of the changing landscape of the modern office and we have been a driving force in changing it. As a result, we don't design for today or the next year or two, but we design for where your office will be in 5, 10, 20 years from now.
We rely heavily on solutions from Haworth, Deskmakers, HumanScale, TakeForm, Clarus and Magnuson Group with the luxury of the ability to plumb the breadth and depth of our 250 partners' offerings.
Corporations as diverse as Abbott Labs, Boston Scientific, Coca Cola and Securitas have trusted their projects to Pacific Office Interiors.
Learn More About Furniture for Corporate Spaces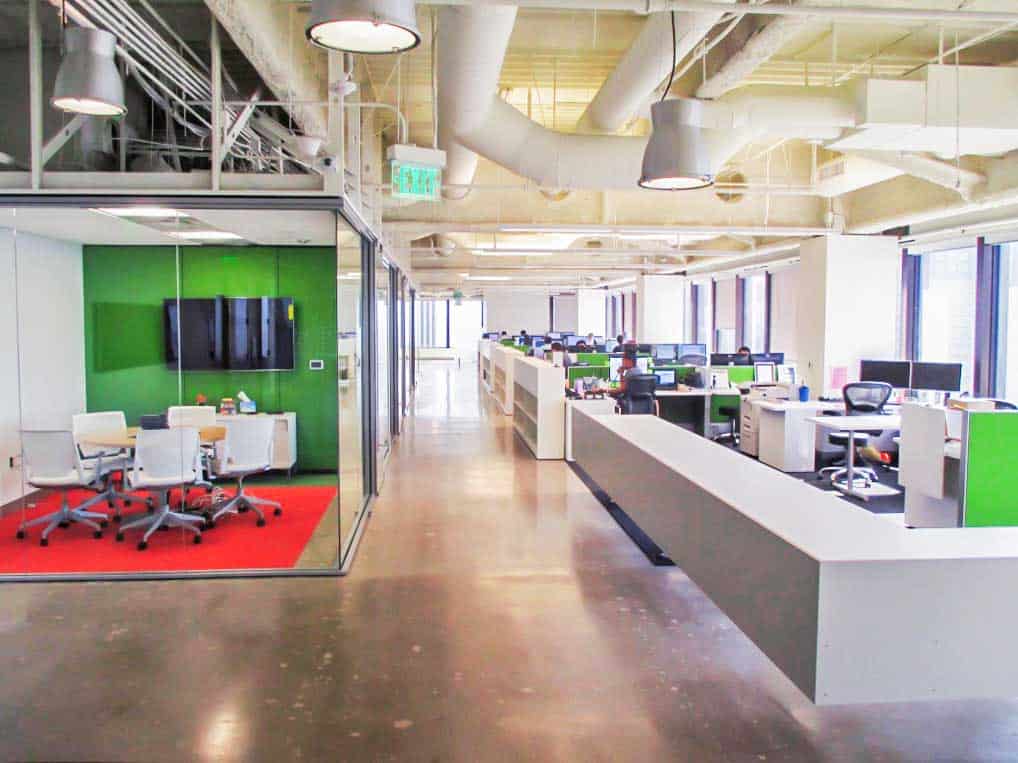 Let's Talk About Your Design and Furniture Project
Whether your project is Corporate, Government, Education, Hospitality, Healthcare or something else, contact us today to speak with one of our interior designers.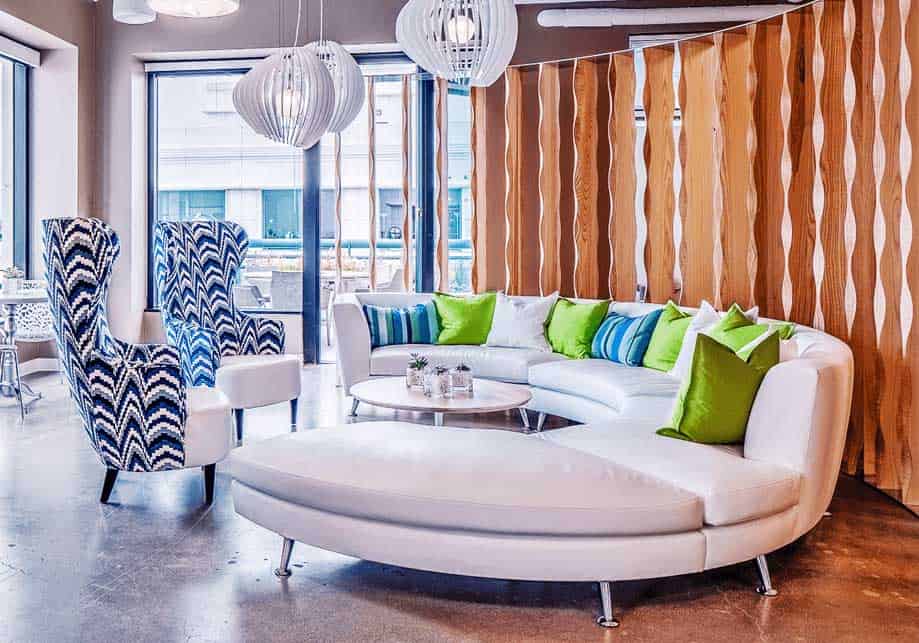 Furniture for Work from Anywhere Spaces and Third Places
Part of the evolution of the traditional workspace is the incorporation of the "Third Place," sometimes called "Third Spaces." What is a Third Place? Home is the First Place, Work is the Second Place and historically the Third Places have been coffee shops, cafes, bars and other gathering places. Today, that definition is changing as corporations and other facilities design spaces where an employee can meet on-site in a less formal setting than an office, cubicle or conference room.
Furniture and products for Work from Anywhere spaces are different from those encountered in conventional office spaces. Conventional and uninteresting furniture and products will do a disservice to the design of your Third Place and reduce the benefits you and your employees experience. Fortunately, Pacific Office Interiors has led the way with this evolving concept and has access to the furniture and other products that make adding Third Places to your workspace soar.
Furniture for Work from Home Spaces
Work from Home (WFH) policies are not new to the corporate world. Some companies have openly embraced the concept while others worried employees would be easily distracted and become less productive if a supervisor was not present. However, COVID mandates have forced the issue, moving WFH from experimental status to a requirement.
Ergonomics and a functional workspace are key to worker health, productivity and morale. Sitting at a kitchen table with a laptop isn't an acceptable solution. Proper seating and work surfaces are essential to good ergonomics…even at home.
When workers are comfortable, they are more productive.
Three of our partners are offering furniture and products for work from home spaces at a discount to encourage corporations and individuals to invest in the proper furniture. Shop on your own, or if you prefer, you can contact us for advice and guidance.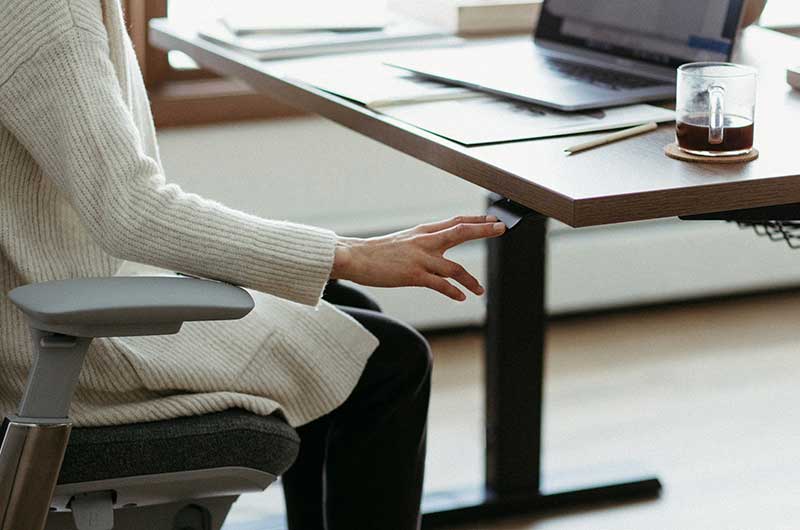 Top Manufacturers of Premium Furniture and Products for Interior Spaces
You expect the best from the firm who provides the furniture and products for your interior spaces. To meet that expectation, Pacific Office Interiors seeks out and partners with manufacturers who are the best in their class. We only work with companies whose values and commitment to excellence match ours.

Contact Us
The design and furnishing of your interior spaces directly impacts employee, student, patient, guest and customer health, morale, productivity and image of your company. To make sure you exceed your goals every time you need furniture and products for interior and exterior spaces, turn to the Greater Los Angeles leader in design, procurement, installation and service, Pacific Office Interiors. Call us at 818.735.0333 or email us to start your project's journey to success.
Doing our best work, so your team can do theirs