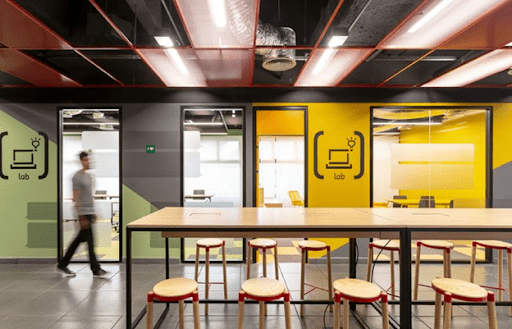 Authentic Interior Design for Commercial Spaces
What makes a space authentic, and how do we as designers do our bit to ensure we are creating a space that is authentic to its people and purpose? When discussing Authentic Interior Design for Commercial Spaces, our team thought it insightful to reach out to some of our design partners with whom we continually work on our most innovative projects.
We think that you will agree that these ideas and concepts are insightful and will lead to better design for your next project.
Our Featured Design Partners in Authentic Interior Design for Commercial Spaces
We are so excited to share the thoughts and ideas we received from the professionals. Before we dive into our questions though, we would like to introduce and thank our panel of participants – we appreciate your great insights!
Jan Edson is an Interior Designer who owns and operates Edson Design in California. She has many years of experience in the design industry and specializes in higher education spaces such as USC, Loyola Marymount University, UCLA, and many other institutions in Southern California.
Laura Velasco is an Interior Designer who owns and operates Level Up Interiors in Irvine, California. Her firm specializes in commercial properties, multi-family developments, student housing, senior living, and high end residential.
Oonagh Ryan is an architect, and the Principal of ORA LA based in the Arts District of Los Angeles. Her experience and expertise can be seen by a diverse portfolio ranging from Residential, Commercial, to Hospitality and Institutional projects and has been recognized with several awards. Apart from architecture and design, Oonagh is also passionate about travel, music and art.
Mesa Sherriff is an architect and urban designer at ZGF specializing in utilizing emerging materials and technologies on a range of project scales and typologies. In every project his ambition is to realize collective wins that meet/exceed project targets while providing communal benefits and addressing social needs.
What Do You Genuinely Enjoy About Designing For Interior Commercial Spaces?
Jan: Creating a new space that will hopefully impact many people's lives in a positive way. Many people spend as much time (or more) at work than they do at home, so designing work and public spaces is so important, especially in these interesting/challenging times.
Laura: During the conceptual phase of design, I genuinely enjoy giving the project a life of its own. Grabbing inspiration from unexpected places and combining them into an interior story is so rewarding to present to a client.
Oonagh: The people, the experimentation process, and imagining all the possibilities… Design is an optimistic endeavor that requires us to solve problems and create practical solutions for spaces that have a long-lasting impact. We really enjoy the collaborative process and marrying practicality with playfulness to make a difference in people's lives.
Mesa: I enjoy the process of evaluating and understanding the competing needs inherent in every design opportunity and working to find a rational solution, or solutions, to address all of them.  I also particularly enjoy the iterative nature of the design process. I enjoy that there are good, better, and best solutions to every design opportunity and so many factors go into determining which outcome is achieved.
What Is Your Strategy For Designing An Authentic Space For Your Clients?
Jan: Listening to the client is the most important factor to me. If you can find a way to incorporate someones "needs and wants" into a space, while also showing them alternative and newer ways that might further enhance their work and collaboration experience, then that is a huge bonus for everyone!
Laura: Each property and space has its own personality and function. When designing a space, I keep the current and future end user in mind to make the experience as functional as possible while adhering to its personality.
Oonagh: We focus sharply on the end result. The space must be beautiful, functional and purposeful, it must be built well and bring our clients unexpected moments of joy as they experience it throughout the day.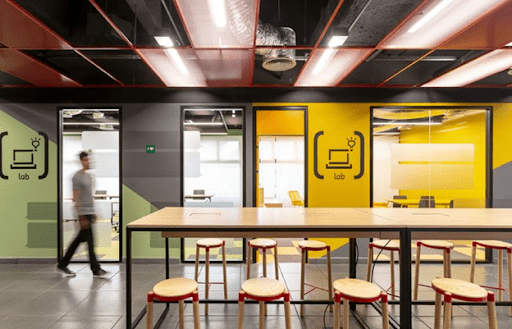 Wayfinding, Signage, Wall Graphics are all additional ways to enhance identity.
Mesa: I find that when design decisions are predicated on rational responses to clear design objectives the design takes on a sense of purpose.  For me, this purpose is what is legible to everyone that interacts with the design, makes it inextricable from its context, and therefore authentic.
What Exciting Elements Do You Apply In Order To Build A Meaningful Brand Experience Within A Space?
Jan: Use of color, materials, and interesting and unexpected pieces is a great way to make someone's space their own.
Laura: I always try to keep the branding colors tied in as much as possible into the interiors. My favorite pops are in art, accessories and pillows, I feel like those elements can really become the star if done properly.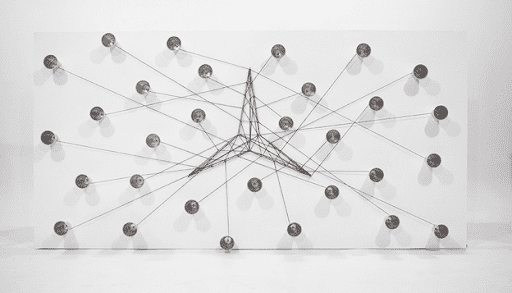 Art Installation by Pentagono for Mercedez Benz.
Oonagh: For a cohesive branded experience, the key to a successful end result is in a strong design concept. Having a clear design concept creates a meaningful narrative for the space that reinforces the brand and gives us a framework for all the elements we select to come together as a cohesive design story.
What Would You Avoid When Designing A Branded Environment? And If So, Why?
Jan: I try not to apply anything that is too "cliché" or something has been repeated too many times in the past….in an effort to keep spaces looking fresh and re-invented.
Laura: When designing branded environments, I will try to keep any trendy colors or design elements to removable art work to avoid becoming dated over time. If possible, I like the base of my design to remain as timeless as possible.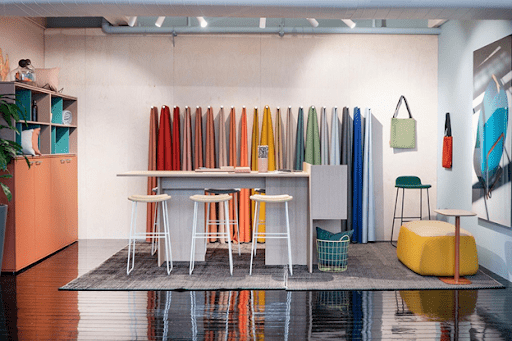 Plan for purposeful use of material/colors
Oonagh: Be confident in keeping things simple and avoid overused trends. It's easy to pick materials that blow up on Instagram/Design Blogs/Magazines as many of them are beautiful. However, they become quickly overused and tend to date a space. We often look for materials and products that have been around forever, and figure out ways to use them in a fresh new way.
Mesa: Avoid overusing the brand. Create awareness but look to evoke the brands' identity through the design instead of relying on anything graphic to tell the story.
Do You Have Any Favorite Furniture/Finish Product Solution You Use To Showcase A Client's Brand?
Jan: Custom logos on upholstery or the application of custom "to match" paint finishes on metal or other surfaces is a great way to incorporate this…and these offerings are fairly easy to obtain.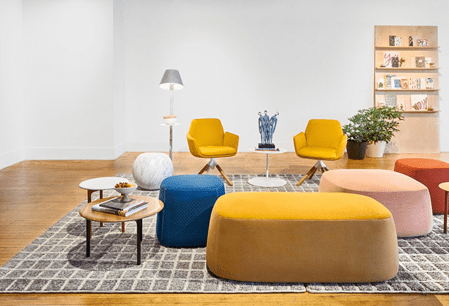 Poppy + Openest Collection by Haworth are a good way to bring in pops of color into a space
Laura: I am in love with the Haworth Poppy Chair! This chair is such a chameleon and can really adapt to any space in any color. The base options can change the chair from a task/conference chair to an elevated guest chair.
Oonagh: Every client is different and every brand has its own unique set of needs, so it's hard to say if we have a favorite go-to solution. We tend to gravitate towards materials and products that are timeless, well made, and that we can stand behind from a functional perspective. Given the climate change crisis, we now make it a priority to specify responsibly harvested/manufactured materials from companies that recognize the urgent need for change within the construction industry.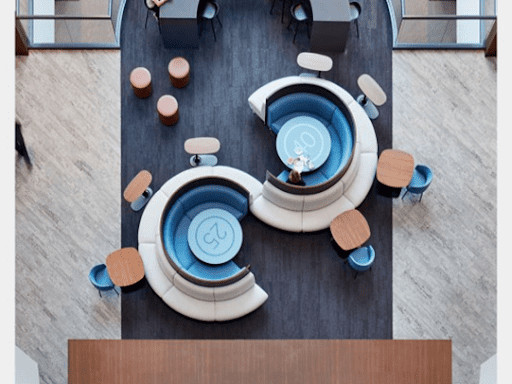 Custom Print Table Tops by FurnitureLab
Authentic Design For Your Commercial Space
It's amazing what goes through an experienced designer's mind when thinking about designing Authentic Interior Design for Commercial Spaces. As with most things, it's the details that often go unnoticed that contribute most to the overall look, feel and experience of any space. When you are ready to discuss designing your new space, or if you would like to discuss how to refresh an existing space, let us know. We'll set up a meeting with you and one of our experienced designers. Contact us online or call us at 818.735.0333 or email us at hello@poi.bz.
We hope you appreciated these insights as much as we did!