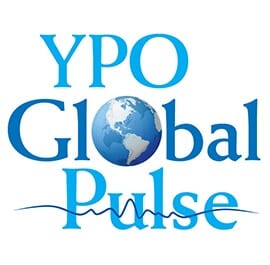 YPO Global Pulse – Q3 2017
YPO Global Pulse – Q3 2017
• The YPO Global Pulse Confidence Index remained steadily optimistic, its fourth consecutive quarter above 60.0.
• In the United States, the Index remained steady at 63.5, close to the record- high level of 65.1 reported in April 2012, making the region the most optimistic globally.
• Australasian confidence was down 3.7 points, but remained in optimistic territory at 63.3. While Australia declined 2.5 points to 64.2, this still indicates a positive economic outlook; its regional counterpart, New Zealand, slipped 0.6 point to 53.8.
• Economic confidence in Canada declined 1.1 point to 61.8, remaining well in positive territory, reflecting a strong economic outlook.
• Confidence in Latin America rose 2.8 points to 62, reflecting a sharp 8.0-point increase in Brazil. Confidence also improved in in many Central and South American countries.
• In the European Union (EU), the Index fell 1.2 points to 61.8, after an upward swingin confidence of 2.1 points in July to a record-breaking level of 63.0. Non-EU Europe declined slightly by 1.7 points to 58.6. However, confidence in Europe remains high.
• Business confidence in Asia rose 1.3 points to 62.8, slightly above its average over the past two years. The increase was led by a nearly 9-point increase in confidence in China, combined with significant gains in some states within the Association of Southeast Asian Nations.
• In Africa, leaders were marginally more upbeat, and confidence rose 1.3 points to 57.5, despite sharp declines in East Africa. The IMF predicts that many sub-Saharan African economies will grow, and there is hope that economic conditions in Nigeria and South Africa will steadily improve.
• In the Middle East/North Africa (MENA) region, the Index rose slightly to 53.2, the lowest confidence reading among the nine regions surveyed for the second quarter running, and 9 points behind the global composite.
To see the Q2 Global Pulse please click here.