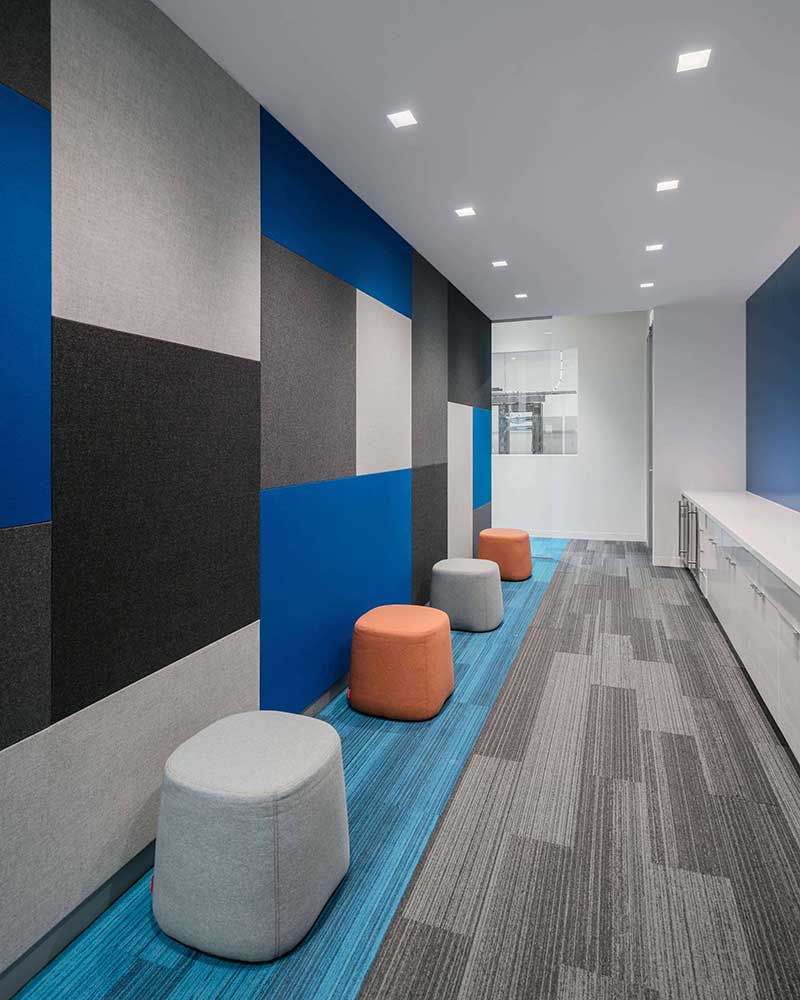 5 Easy Ways to Include Color In Your Workspace
5 Easy Ways to Include Color in Your Workspace
According to a 2014 report in the Annual Review of Psychology, color has a unique effect on humans. It has the ability to transport us to another time, past memory or evoke an emotion unlike any other. While the workplace, for many decades, has been a bare bones and bland space, companies large and small are exploring technicolor environments in these spaces.
We've seen this shift toward color in many projects we undertake year over year and the truth is, color can absolutely transform a space and have a direct impact on productivity, performance and comfortability. For those who have yet to experience the opportunity to work in a colorful environment, we've put together five relatively easy and affordable ways you and your company can incorporate color into a work space. We are confident that you'll fall in love with these solutions and without further ado…
Succulents and Live Plants (Nevins Bio Canvas)
You're seeing green and a lot of it. Succulents and living plants are an easy and cost-effective way to add color and calm to you office space and workstation. Succulents store water in their tissue and require relatively low maintenance which make them perfect for a busy office setting. These plants do over time, adjust to low-light settings and so, you should do your research before purchasing.
If you're looking to add live plants or succulents to your office or workstation, we work with our partner Nevins who recently released their Bio Canvas product. With multiple applications available, the units are high-impact at a reasonable price.
2. Accent Furniture (Haworth)
Using accent furniture in your space isn't really a new breakthrough- interior designers and homeowners have been doing this for years. What's changed in the workplace however, is the addition of accent furniture and accessories that create emotion and feeling instead of a dated and cold environment.
As a Preferred Best In Class Haworth Dealer, we specialize in Haworth products across many of our projects and stand by the quality and care found in each and every product. One such product that can easily add color to your office is the Chick Pouf Lounge Chair. Brought to life by Patricia Urquiola and Haworth, Openest lounge furnishings bridge the unexpected and familiar—bringing a distinctly new perspective to the work landscape.
Perhaps you have a lobby area that could use a few Chick Pouf's to liven up the space. They're great because they are versatile seating options that add color and comfort. We can't get enough of these wonderful lounge furnishing options. We love all the customization options Haworth offers and if you love the Chick Pouf as much as we do, you can even DESIGN YOUR OWN.
 3. Feature Walls (Wolf-Gordon)
If you have an once of interior design in you or have caught an episode or two of HGTV's Fixer Upper, the concept of a feature wall won't come as a surprise when talking color. A feature wall can allow you to infuse color without of course, painting the entire office red (or any color of your choosing).
On our commercial design projects, we have used Wolf-Gordon to add feature walls and color to a client's space and you can too.
4. Desk and Office Accessories (Poppin)
If you're on social media (and let's be honest with ourselves it's 2018 afterall) then you might be in tune to the #DeskGoals movement. Essentially, it's a plethora of images, videos and sharing around the idea that our desks are in a sense, our home. That being said, the dated office accessories of yesteryear are out and lively color are in.
What we love about Poppin is well, everything. They've got cups, notebooks, letter trays, staplers, and gizmos-a-plenty. Their affordable products and colorful offerings will have you on the #DeskGoals train in no time. We can also almost guarantee you others in the office are going to take notice so, prepare to be the center of attention for a while with your new additions.
TIP: If you really want to add an extra touch to the office, we suggest ordering these for the entire office. Choosing a single color for all workstations and offices can really add a pop of color and impress clients and visitors stopping in. Poppin offers branded sets that are a great holiday gift for your team as well.
5. Task Lighting (Pablo Lighting)
Office lighting has come a long way especially over the last decade or so. Banker's Lamps are out and the LED trend is taking over office surfaces as well. Just because your desk may require lighting doesn't mean that color can't be infused there. In fact, if you're surface is a light oak laminate or white tabletop surface, a task light with some color can really add that extra touch of style and pizazz. Enter San Francisco based lighting company Pablo.
Pablo was founded in San Francisco in 1993 by Venezuelan-born industrial designer Pablo Pardo. Embracing a less-is-more ideology, Pablo frequently challenges traditional design metaphors, developing more practical solutions distilled down to their essence, form and light. A common thread links all of its creations, valuing permanence and sustainability, discarding the disposable mindset so prevalent today. Its mission is to create designs that deepen the relationship between objects, their users, and their environments.
When it comes to color in your workplace, don't be afraid to think outside the box and get creative. Be sure to check with your facilities manager before placing items on walls, panels, and your workstation. Color can add richness and boldness to a space and help make your work environment more enjoyable and peaceful. The beauty of the above tips is that you can do most of this on your own however if you would like some assistance infusing color or updating your space, get in touch with our team today and we can help.
See More Products and Office Solutions from Our Team here.