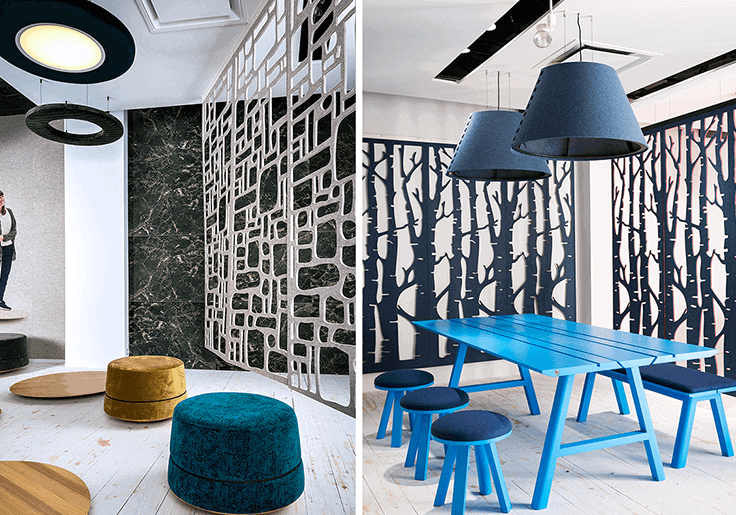 How BuzziFalls Can Help Your Employees Concentrate
Noise in the office can be one of the largest factors in causing distractions, preventing employees from fully concentrating on their work. Maintaining a calm mental state can help individuals stay focused, and thus ensure higher productivity. This is why, when designing and developing new products, BuzziSpace focuses on acoustics right from the very start. Acoustics is a high priority because it contributes to a well-balanced space and therefore an employee's well-being. That's why they created BuzziFalls.
"SILENCE SHOULD NOT BE A LUXURY"

– BuzziSpace
BuzziFalls, designed by Sas Adriaenssens, is a playful space divider made up of BuzziFelt material. BuzziFalls are used to divide a space and create some privacy, while providing aesthetic appeal to the office space. The BuzziFelt strips contain cutout shapes in various patterns, ranging from geometric shapes to city skylines including Paris and New York. The design is a playful solution to help regulate sounds and create private areas in big spaces.
BuzziFalls Rail enables BuzziFalls to slide with ease, creating movable room dividers that transform a private space to a public area. The space divider is also available in a free-standing folding screen. The 'Trio' version consists of 3 panels and is ideal to divide your office or room any way you want. It exists in a single model too, which you can expand by adding multiple single panels.
Personalize your BuzziFalls by choosing from the selection of BuzziFelt colors and one of the unique cutout patterns. The innovative acoustics solution will add style to your space, while keeping it free of distractions.
Contact us at Pacific Office Interiors through our Contact Form to learn more!