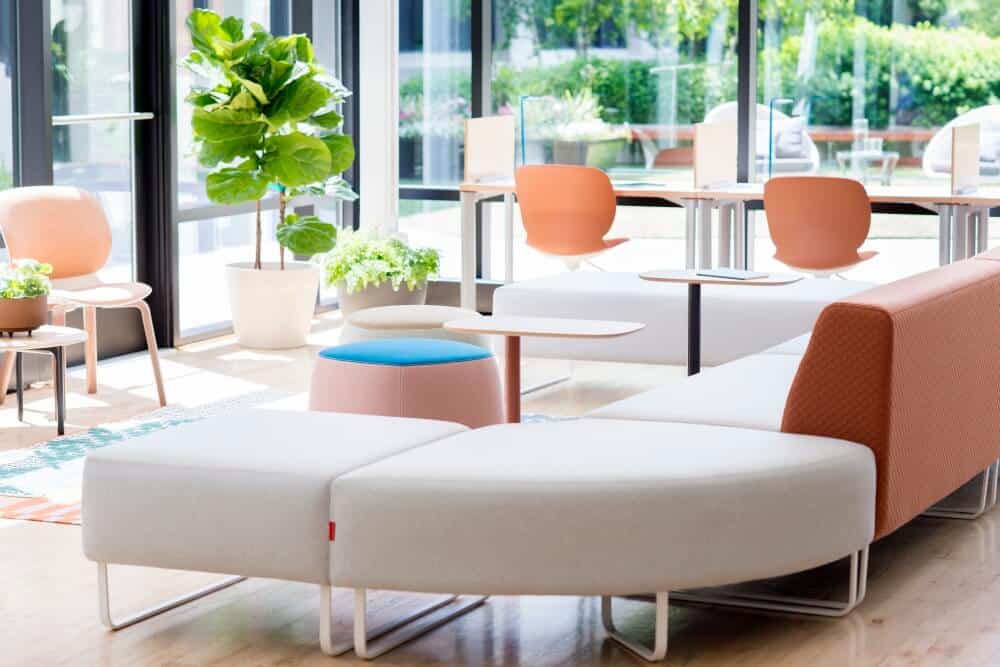 Curved Furniture: The Growing Commercial Interior Design Trend
Frequently in commercial interiors, trends taking place in the residential space begin to impact the way commercial spaces are crafted. This is especially true when considering the term Resimercial Design was coined for this reason exactly where commercial and residential blend and bring aspects of the home into the workplace. What's more, the workplace has caught up to reflect and embody the needs of the individuals who work in these spaces every day. One trend that is making an appearance in commercial spaces is Curved Furniture so let's explore that trend.
Shapes and Lines
Curved furniture isn't a new idea, in fact, curved furniture has been around for centuries with examples dating back to Egyptian and Greek times. Egyptian's prominently used curved furniture in the design of beds- especially footboards- which would slope upwards toward the feet. Greeks used curves on the arms of couches for comfort and function. So, you see, curves aren't anything new, they're just making a comeback.
Emotional Connections
People expect much more from their workplace than ever before. The idea of doing meaningful work means that companies around the globe are creating offices that have emotion and connection. Much of the work of notable researcher and author Don Norman ("The Design of Everyday Things") focused on a user-centered and emotional design which presented three levels of emotional processing: visceral, behavioral, and reflective. The curvaceous trend in the workplace is a part of a bigger movement toward attractive spaces that compel, function and help employees to be and perform their best.
Design in Application
If curved furniture and fixtures have piqued your interest, we have some relatively easy ways to incorporate this in the workplace. Think about turning your lobby or reception area into a well-rounded space with curved sofas, lounge seating, round rugs or coffee tables. Use shapes that complement one another to give your area a sense of movement while creating an inviting look compared to rectangular furniture.
Consider using curved furniture in a meeting room or break out space which has been shown to encourage interaction and communication with others. This softer feel will make individuals feel more relaxed and positively impact users on an emotional level, as mentioned above from Norman's distinguished work.
Why stop at furniture? Many lighting fixtures from the likes of BuzziSpace and Pablo feature round designs that can complement other shapes in a space or stand out in an otherwise rectangular world.
We're loving the curved furniture trend and are ecstatic to see it being used more in spaces around the world. The simple truth is that curved furniture has a history and the ability to affect us in a positive and emotional way. Next time you walk through your workplace, stop and think for a moment, "What would my space look like with round furniture or fixtures?"