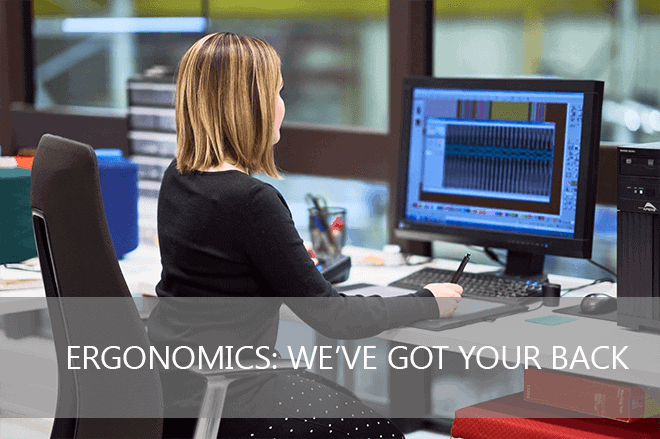 It's October – National Ergonomics Month
Ergonomics is the practice and study of fitting a job to a person. We'll be focusing on the physical best practices of ergonomics in a typical office environment, but ergonomics also encompasses the cognitive and organizational aspects of the workplace, topics for another blog! If you're short on time and need a quick guide on ergonomics to read later, check out  "The Importance of Good Sitting".
Organizations and employees tend to overlook ergonomics when considering workplace well-being. Pacific Office Interiors has the luxury of working with some of the best ergonomic furniture manufacturers in the world, and are privy to vast amounts of research.
We'd like to pass along some of that research to you! This is a fun graphic, here, that breaks down how to create your ergonomic workstation. Having the right set up in workstations prevents carpal tunnel, spinal curvatures, muscle strain and allows for proper blood flow.
Let's Start with Proper Blood Flow
There is an immense amount of negative health effects both in the short and long-term for organizations and individuals that don't take the extra step of creating a comfortable and ergonomically designed office. When choosing task seating, take a look at all the features the task chair provides. At our office we use Haworth task chairs (everyone in our office loves the Fern) specifically because they design with well-being in mind. Like on the Fern, look for a waterfall edge to a chair, this allows the artery in the back of knee proper blood flow.  
What is Carpal Tunnel Syndrome?
Carpal tunnel syndrome is a term that gets thrown around a lot, but what is it? Carpal tunnel syndrome occurs when a major nerve in the wrist is compressed, causing numbness and tingling. To prevent this from happening to you, it takes a few adjustments, such as ensuring that your wrist remains in a neutral position. It's pretty easy to accomplish this by using a wrist pad, ergonomic mouse, ergonomic keyboard trays to adjust to individual needs, and task chairs with adjustable arms. Beyond being uncomfortable, carpal tunnel syndrome is one of the most reported medical conditions, and it makes up nearly half of worker's comp claims. 
Get Your Spine Aligned
For some spine-chilling facts, let's talk about how having the wrong chair can haunt your spine for years. We all know sitting for hours on end is just plain bad, and sitting in a poorly made task chair only makes it worse. Sitting causes the lower spine to flatten, straining the lower back muscles. Having proper lumbar support keeps the natural curve of the spine intact. Ideally, having a height-adjustable desk, and ergonomic task seating that features a forward-tilt seat pan capabilities will help prevent hunching and relieve pressure on spinal discs. If these issues aren't addressed, permanent flattening of the spine and chronic pain is typically what the future holds. 
Want to Know More?
This is just an overview of things to consider. At our company one of the many things we consider when designing a corporate space is the impact furniture and design has on people. If you need some guidance on a current project don't hesitate to reach out and we'll see what we can do for your office — from design, furniture, installation and project management we can support you. 
*Sources: Carpal Tunnel Syndrome