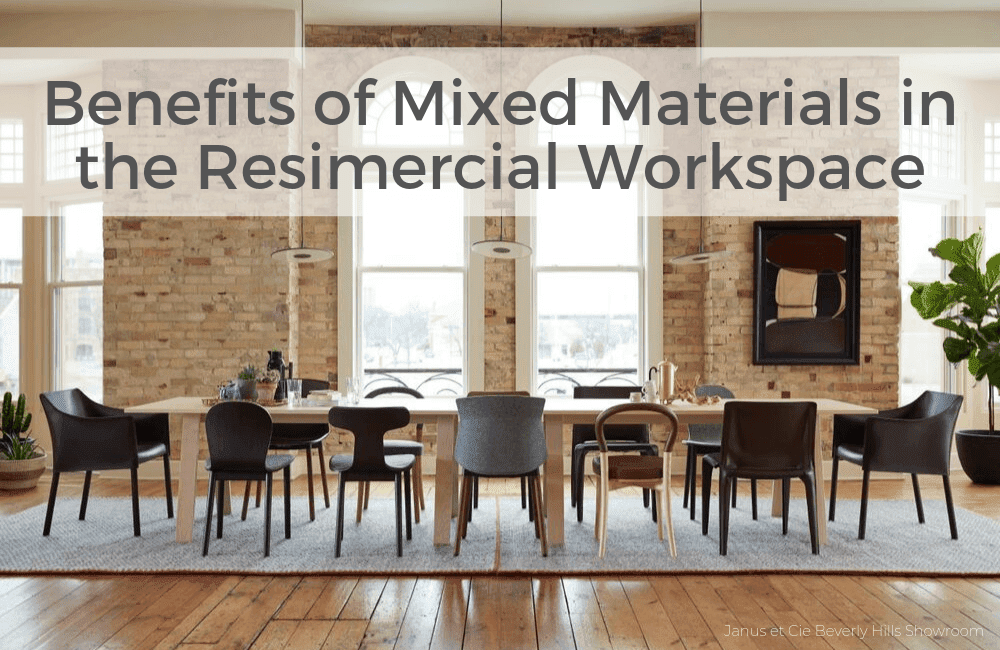 Time to Mix Things Up
The days of perfectly matching furniture, fabrics and colors are long in the past. The trend we are seeing embraced is mixed materials inspired by residential design elements. This can vary from metal and wood to contrasting finishes and colors. Mixing materials is a way to blend styles and eras seamlessly while still keeping a space fresh and modern. 
The Resimercial Design Trend
Usage of mixed materials is largely inspired by more residential design trends, and is being heavily requested to be incorporated into the modern office. The whole idea of a resimercial space comes from combining "residential" and "commercial", allowing pieces from home to be brought into the workplace. This increases the need for ancillary products as many companies embrace the growing desire for less formal-feeling workspaces. This trend utilizes a blend of furniture in workspaces that combines the aesthetic comfort of home with the functionality needed in the office. Pieces like lounge chairs, couches, and cafe tables offer many opportunities to combine finishes, fabrics, and materials on furniture that functionally encourage collaboration.
Maintaining Flexibility 
As manufacturing technology continues to advance, there are more opportunities to embrace this trend than ever before. Commercial spaces can now be designed combining wood with metal or plastic with concrete to give the effect of different working zones within one large, unenclosed space. 
Restricting your materials to one kind can limit the flexibility of the workspace overall. High-use areas may need more durable materials while maintaining the function, look, and feel of a collaborative workspace. In the case of a fast-growing tech start-up, they would need a large, flexible space that allows for a high-level of collaboration and changes in workforce levels. Selecting materials, finishes and fabrics that are durable and eclectic allow for new additions in the future to keep the space cohesive as it evolves. Utilizing various elements within the resimercial design aesthetic keeps the space visually appealing and engaging while adding dimension to any office.