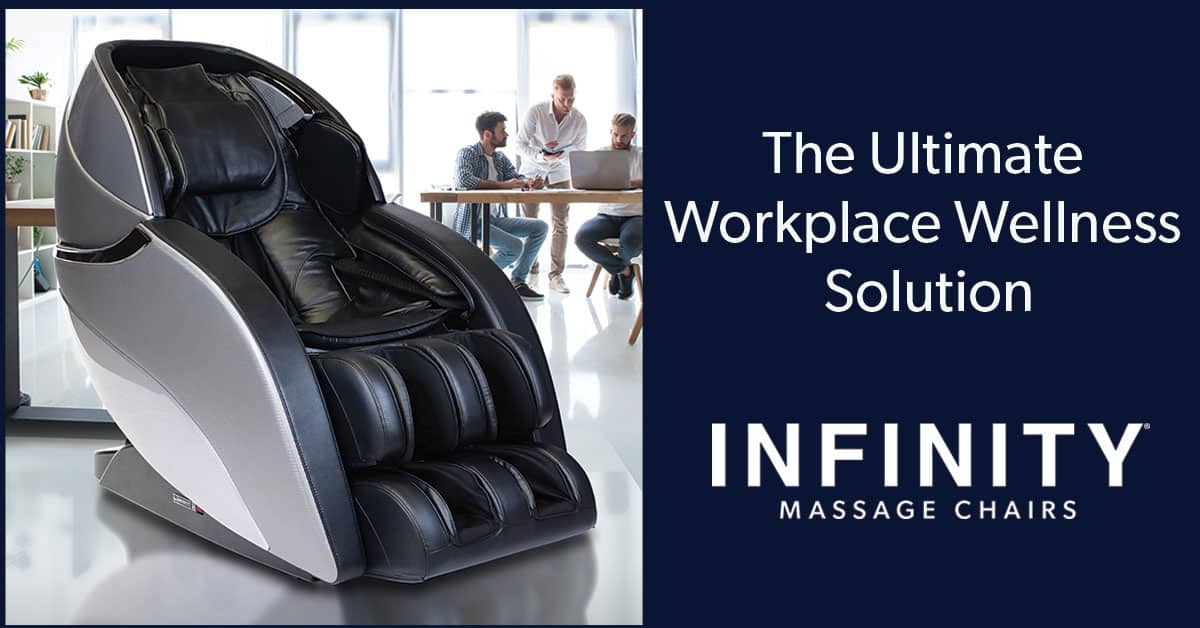 Massage Chairs for Commercial Interiors
If a single, small item could increase workplace productivity, increase workplace morale, increase employee wellness, reduce workers' comp claims, make it easier to hire new staff and simpler to retain current staff, would you consider adding it to your office? Massage chairs — in particular those from Infinity — may seem like a frivolous extravagance, but it brings all of those benefits and more wherever they are placed.
Massage Chairs — A New "Perk for Work."
Employee attitudes and expectations are changing rapidly, due in large part to their Work From Home (WFH) experience. Now, as workers are being "reintroduced" to a traditional work environment, they are looking for workplace changes and incentives in order to give up the comfort of WFH.
Work demands are also different today than two years ago. Longer hours, heavier workloads, Zoom-style meetings at odd times to accommodate worldwide team participation and lingering concerns over COVID-19 mean more employee stress. Employers are discovering the benefit of using massage to relieve stress and deliver other benefits.
Some companies are bringing massage therapists on-site and providing a massage service to their employees. Others are adding massage chairs throughout their facilities. The chairs enable employees to grab a massage on their schedule and they provide comparable results and benefits to massage therapists. Employers report that the chairs are wildly popular, so much so that sign-up sheets for "chair time" are commonplace.
Retain and Attract Employees
Employers see massage chairs as a way to retain and attract employees. For example, medical facilities use massage chairs to help staff cope with the long hours and demanding duties of patient care. These chairs play an important role in staff retention.
The massage chairs also serve as a very visible display of a company's claim that they care about their employees' wellbeing. Filling vacancies is highly competitive today because there is a shortage of qualified candidates at nearly every job level. To compete, employers are introducing a variety of perks and inducements — including massage chairs — as differentiators.
Massage Chair Employee Benefits
Chiropractors, physical therapists, sports trainers, Traditional Chinese Medicine (TCM) and Eastern Medicine practitioners, health care providers and others use massage therapy to enhance the well-being and health of their patients and clients. Massage is truly a "hands-on" business…at least, that is usually true. These Infinity Massage Chairs give many of the same benefits of a live massage at a much lower total cost and with greater flexibility.
The therapeutic benefits of massage include the following, among others:
Pain relief from musculoskeletal injuries such as those experienced in sports, manual labor and repetitive stress situations.
Reduction of stress and anxiety.
Aids serotonin and endorphin release — from a University of Miami study.
Improves circulation.
Increases white blood cell counts — from a Cedar Sinai Medical Center study.
Reduces the formation of scar tissue.
Improves flexibility and range of motion.
Economic Benefits of Massage Chairs
In addition to increasing employee wellbeing, massage chairs deliver tangible economic benefits. A Canadian company in Ontario studied the impact of massage chairs on workers' compensation claims and lost time expenses. The study showed a $200,000+ reduction in worker compensation claim costs and a 25% reduction in employee time away from work due to injuries.
Who Uses Massage Chairs in Offices?
Massage chairs like the Infinity Smart Chair X3 3D/4D are building a solid record of delivering therapeutic massage benefits. These chairs are increasingly found in executive suites, professional sports locker rooms, chiropractor offices, medical facilities, military bases and workplaces of all types.
These demanding customers have high expectations for seeing results and the Infinity range of massage chairs doesn't disappoint. According to users, these chairs provide a deep tissue massage with their 3D and 4D rollers approaching that of a trained massage therapist.
Sports Training Facilities
The Cleveland Browns use the Infinity Genesis Max 4D in their training facilities. In addition to providing deep tissue massage, the chair provides a decompression stretch, like stretching over a yoga ball, and massages glutes and hamstrings. And, the Genesis Max 4Ds accommodate individuals up to 6'9″ tall and weighing 330 pounds, perfect for the majority of these professional athletes.
Chiropractic Offices
The Infinity Smart Chair X3 3D/4D is popular with chiropractors. They are using these chairs as a pre-treatment tool, delivering a part of the patient's treatment before moving to the chiropractic table. The chairs supply another revenue source for these practices and enhance treatment efficiency.
Manufacturing Facilities
Manufacturing facilities and military bases favor the Infinity IT-9800 massage chair. This particular model doesn't have footwells; important in a manufacturing setting because it allows workers to use the chair without removing their boots or heavy work shoes. It is for this reason that these chairs are also popular in military facilities.
Corporate Settings
Massage chairs are relatively large as compared to regular chairs, but tiny in comparison to other workplace amenities. Still, Infinity's engineers are continually reducing the footprint of their products. For situations with limited space, Infinity offers models that require only 2″ of space between the chair and the wall.
How Many Massage Chairs Does an Office Need?
Is there an ideal ratio of the number of people per massage chair? There isn't a hard and fast ratio because there are many variables driving how much use a chair receives. Those variables include chair locations, employee promotion and communication, "chair time" management process and so forth. We recommend starting with one (1) massage chair per 100 employees. This allows you to start small and grow as your employees' demands increase.
Bring the Benefits of Massage Chairs to Your Employees
Coming back to the office post-COVID 19 is stressful for many employees. An excellent way to alleviate this stress and provide additional health benefits for your staff is adding massage chairs to your layout and employee wellbeing programs. We think massage chairs are an essential component of the "new office" and suggest you contact us to get started adding them to your space.