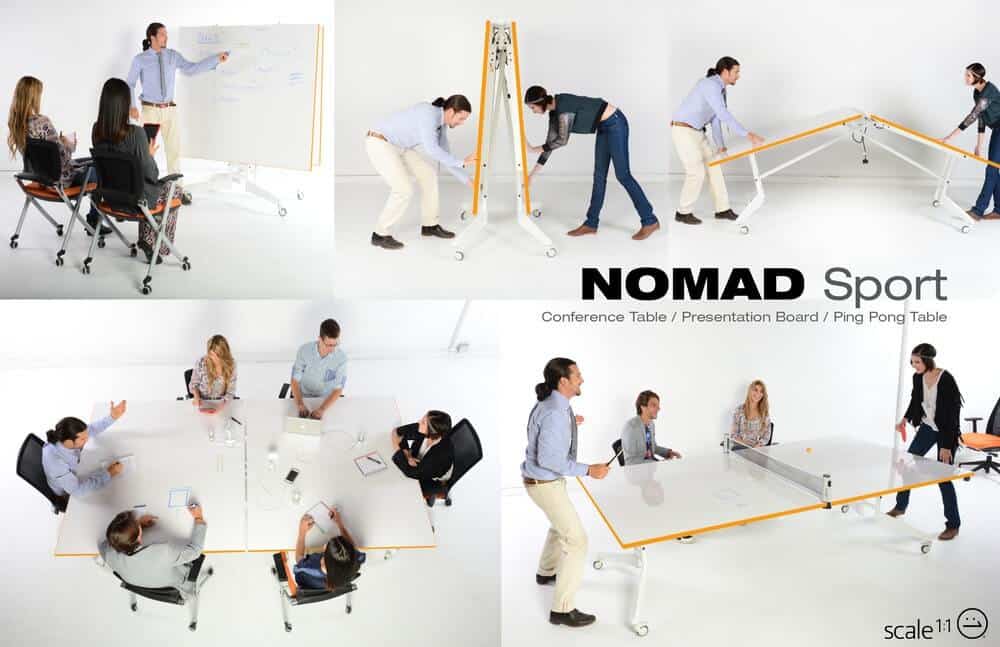 3 in 1: Conference Table, Presentation Board, Ping Pong Table
Nomad Sport
Whether your office space calls for a conference table, a presentation table, or a ping pong table, the Scale 1:1 Nomad does it all. Nomad Sport was "Winner by Popular vote" in the 2016 ARCHITIZER A+AWARDS.
Features:
The 9′ x 5′ table integrates space-saving and flexible teamwork, able to fold up to be put away after use. Utilize Nomad for your everyday meetings, or fold it up to use as a presentation marker board. Turn your workspace into a game room for times when you need a fun break from work with your coworkers!
Nomad's desktop has a durable laminate work surface with tough 2mm PVC edge banding for long lasting quality and protection against bumps and dents. The legs and base are built to last too, with  powder coated steel legs and folding frame on lockable casters. Nomad even meets your technology needs with built-in power options.
Nomad can even be customized to your preference, offering a white matte or dry erase finish. The edge band comes in white, tangerine, scale green or storm gray.
By definition of Greek origin, a nomad is a member of a community of people who live in different locations, moving from one place to another. Nomad Sport is similar in that it changes from one position to another, flexible in its ability to change.
Please contact us via our Contact Form to learn more.