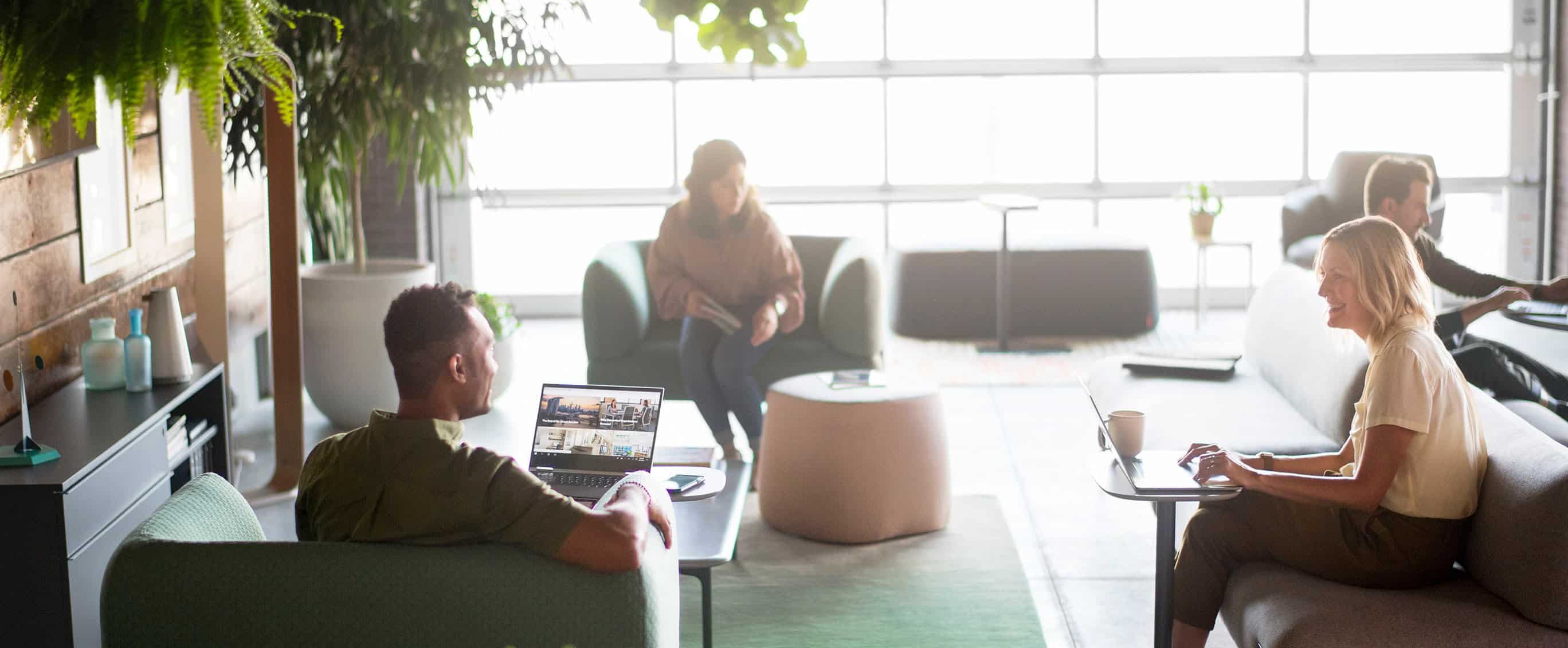 Office Ergonomics in 2022 – More Than A Chair
Office Ergonomics in 2022 is more than a chair; it is about an ergonomically correct, flexible and adaptable work or learning space, not just for a few hours but over extended periods of time. Today, it is recognized that work and learning spaces must accommodate different physical positions to alleviate discomfort, support ease of motion and prevent debilitating musculoskeletal disorders (MSDs). As a result, adjustable everything is today's "state of the ergonomic art," including armrests, back support, seat and work surface height, monitor height and angle and more.
Ergonomics 1.0 – It Was All About The Chair
Many may think that interest in ergonomics is a 20th and 21st Century development. However, the origins of ergonomics stretch back to the 1800's. The serious study of ergonomics began in the early 1900s when efforts were made to improve job processes to increase worker efficiency and output. Productivity and efficiency were the main focus rather than worker health and welfare. Today, ergonomics is defined as "An applied science concerned with designing and arranging things people use so that the people and things interact most efficiently and safely."
Over the ensuing decades, it was discovered that improper posture and poorly designed task chairs were impacting employee health and productivity. In 1968, the first ergonomically correct task chair was introduced, and ergonomics 1.0 now had an employee welfare component.
Ergonomics 2.0 – Make a Stand
Like all fields of study, the tenets of ergonomics continue to evolve. Studies suggested that sitting was the new smoking and even more harmful to a person's health. This spawned the creation of adjustable height desks that allowed users to work standing up as a break from sitting. Ergonomics 2.0 took wing with a new range of solutions to flexibly accommodate standing and sitting work positions, selectable by the employee throughout the day.
While standing is an excellent alternative to sitting all day, standing all day can be more detrimental to your physical health than sitting all day.
Ergonomics 3.0 – Hybrid Spaces
Current best practices call for flexible work and learning spaces where people can sit comfortably and properly supported, stand when desired and move freely throughout the day. Spaces where the work surface, seating and data entry devices support multiple positions, encourage movement and limit the hazard of incurring MSDs. And, in a new twist, practitioners, manufacturers and employers are facing the need to support proper ergonomics in hybrid work and learning spaces that consist of traditional office spaces, at home work spaces and third places.
Ergonomics didn't disappear when pandemic social distancing mandates pushed workers and students out of traditional settings into home-based alternatives. While remote options are not new, the requirement to use them full time for extended periods puts many workers and students into situations without proper ergonomics. Sitting at a kitchen table on a dining chair manipulating a laptop or tablet is about as far from ergonomically correct as possible.
Hybrid spaces are a new reality for corporations and educators. People have found the remote option preferable for many reasons, including staying healthy through social distancing. Companies seeking to attract and retain the best talent are being asked to provide hybrid workspace options; onsite, at home, third places and from anywhere. Enter Ergonomics 3.0.
Office Ergonomics in 2022 Include More Than the Business Areas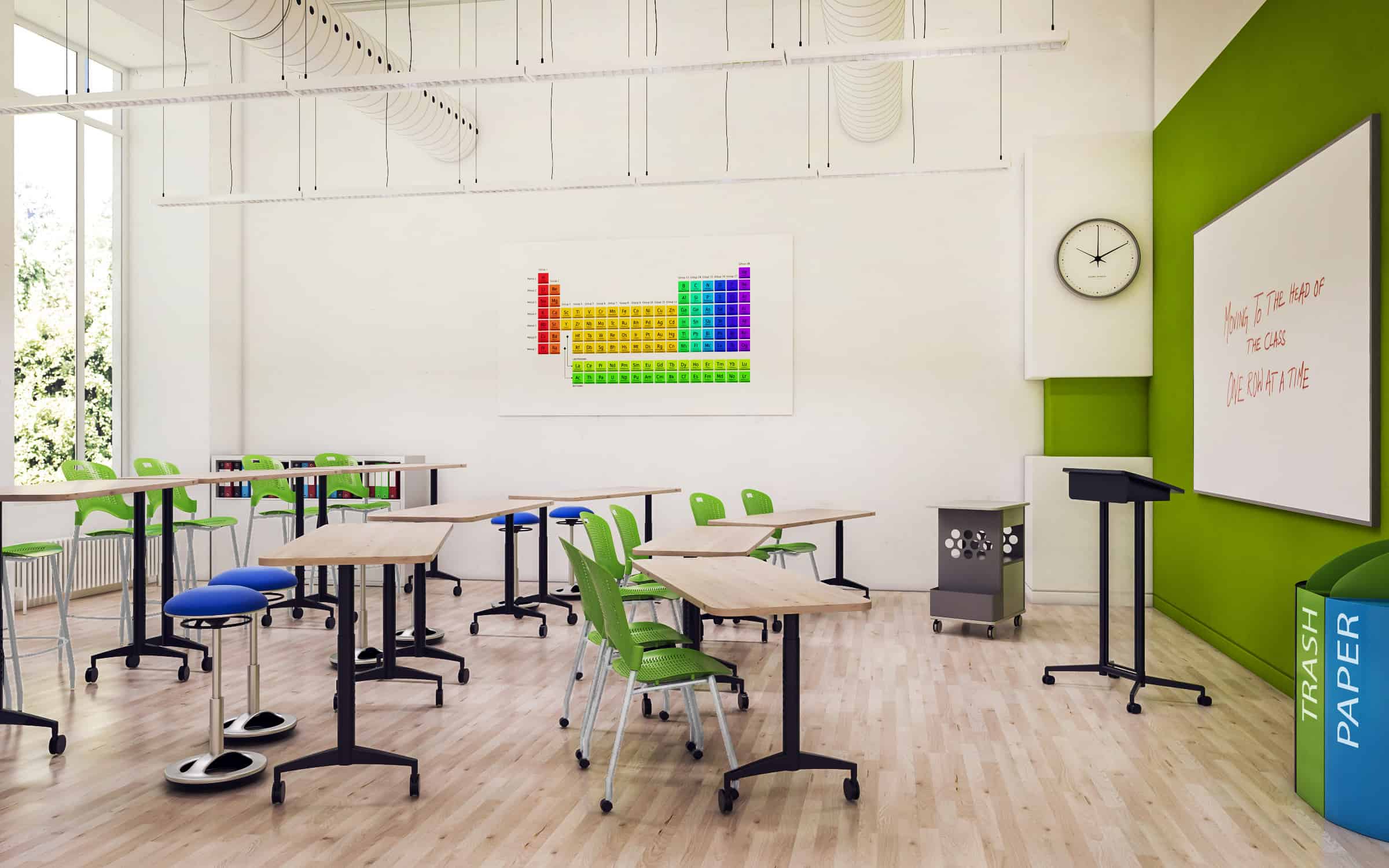 Workstations, offices, and conference rooms have received ample ergonomic attention and are already equipped to support employee health for many companies. However, in a world of hybrid workspaces, every area inside and outside your office needs to reflect proper attention to ergonomics. Lounge, dining, common and outdoor spaces are increasingly popular for work and study.
How might this trend manifest itself? In the case of lounge and common areas, ergonomically correct seating is needed. Also, the seating options should encourage and support collaboration. For example, when a work team decides to hold an impromptu status meeting, the lounge area might be the perfect change of venue, but not if the furnishings are uncomfortable for the length of the meeting or don't allow for easy reconfiguration. Here, a solution like the Haworth Cabana Modular Sofa is ideal. Ergonomic support and on-the-fly rearrangement will entice teams to gather here.
Ergonomic Standup Meeting Spaces
Other innovations include standup meeting spaces to ensure crisp, to-the-point meetings. The Haworth Immerse offering accommodates all seating preferences and requirements in these areas. Those who need to sit can sit while those who want to stand can stand. This flexibility is vastly different from traditional meeting rooms with a single large conference table and identical chairs.
Ergonomic Breakout and Collaborative Spaces
Breakout and collaborative spaces can be equipped with the Safco Twixt Active Seating Chair. This height-adjustable seating option allows users to work at different heights, such as traditional desktops and bar-height tables. It offers a 360-degree swivel action, has built-in handles for easy relocation and promotes proper posture.
Ergonomics for Educational Spaces
For education spaces, sitting in one spot in the same chair all day doesn't work well for most students. Some need to fidget to release pent-up energy; others may seek a more comfortable lounge-like seating option, at least during breaks. The PRODUCT HERE accommodates the need to move while supporting good ergonomics and limiting classroom distractions.
Outdoor Ergonomic Spaces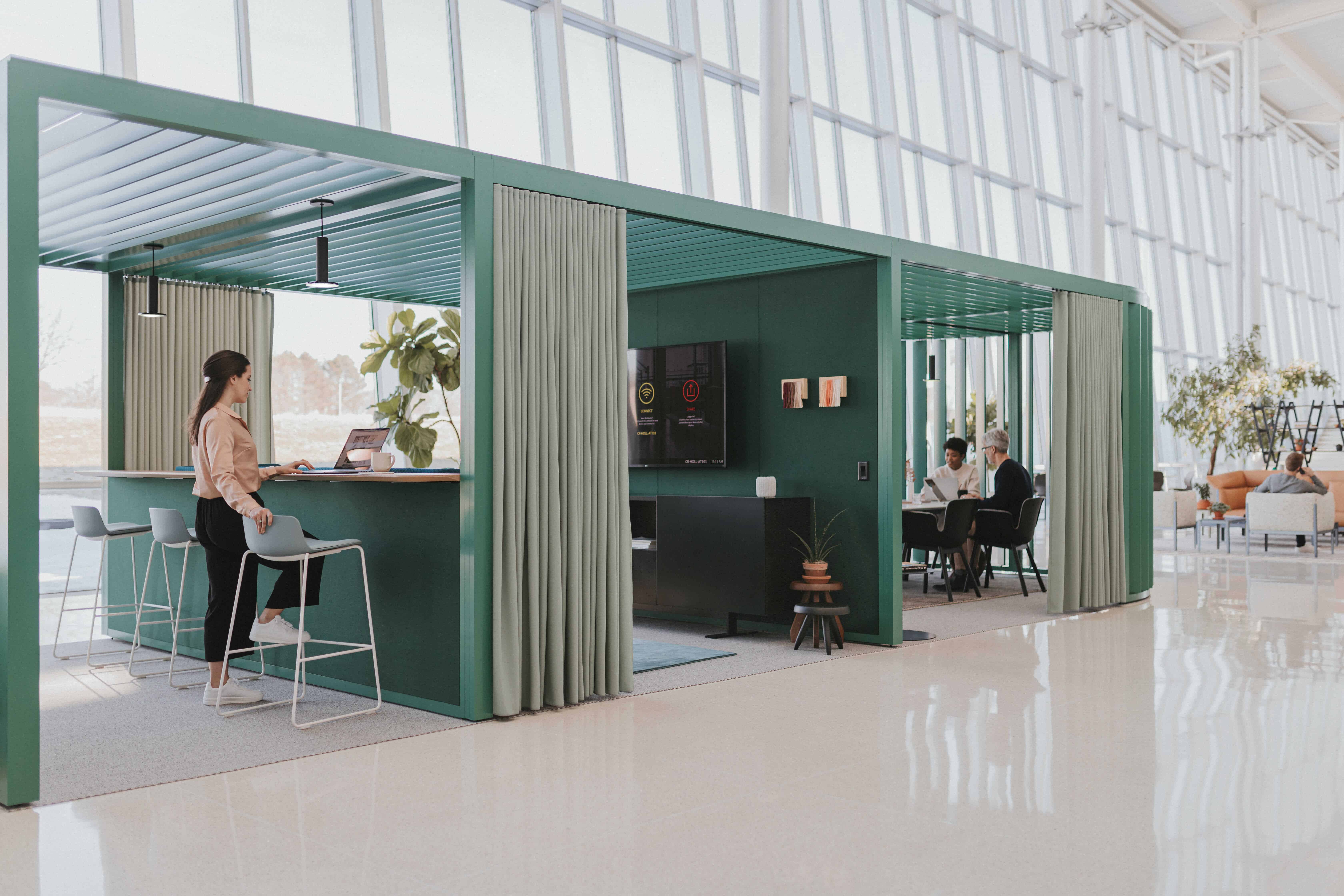 Many people enjoy working outside to take advantage of fresh air, attractive natural surroundings and to get away from the office setting. While some organizations used to create outside spaces with very hard and un-ergonomic schoolyard picnic tables, more forward-looking companies and schools are equipping these spaces with durable, comfortable and ergonomically correct furnishings that can be reconfigured easily for team and project meetings. Cabana structures offer the ability to collaborate with others or to pick a cozy corner for uninterrupted work time. Landscape Form's Upfit is a well-designed, popular option in these settings.
Technology integration for outdoor ergonomic meeting spaces is also a requirement. Wireless connectivity to the internet, corporate networks and school resources is a minimum expectation. Weather-proof power sources to recharge devices and power laptops or tablets make these spaces suitable for longer-term work sessions.
Benefits of Investing in Office Ergonomics
Attracting and Retaining The Best Staff
Attracting and retaining talented employees is near the top of the benefits list. In today's tight labor market, prospective employees look for more than a desk and a coat rack. They want an inviting workspace that supports their health with ergonomically correct chairs, desks and accessories. They are also looking for ergonomic support when working remotely.
Another challenge in retaining talent is the "great resignation wave." According to a Microsoft study published in March of 2021, 41% of current employees are considering resigning from their current position. Not wanting to return to an office full time, burnout, career path changes, rebalancing work-life ratios and more are the drivers behind the wave.
Data shows that employees working in ergonomically correct environments stay with that company five times longer than employees in non-ergonomic situations. With the large number of employees voicing resistance to a return to the office, employers are betting that offering ergonomically correct hybrid workspace options will increase the retention rate and hopefully slow down and stop the wave of resignations.
Productivity and Creativity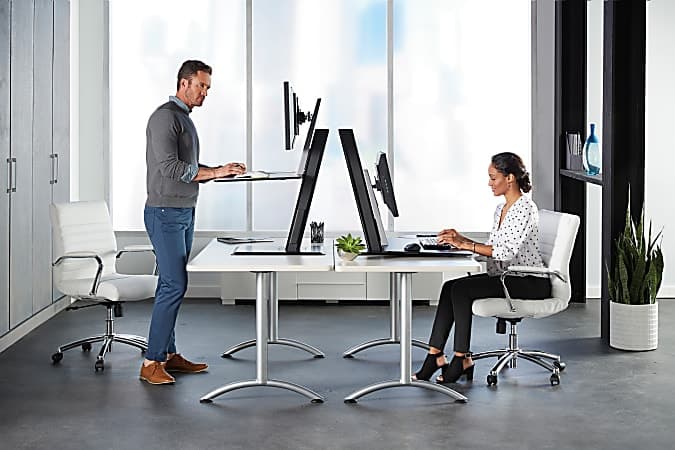 Another benefit is improved productivity and creativity. Ergonomically correct workspaces protect employees from sustaining MSDs, which directly impact productivity. People who work in an environment without pain and discomfort are more creative, engage more readily with others, make larger contributions to team and company goals and work more efficiently.
Pain on the job resulting from an MSD lowers productivity and drive. Left unchecked, the MSD invariably leads to time away from the job and potential Workers' Comp lawsuits (see below). The answer is an investment in ergonomic furnishings. Supporting data shows employees with proper ergonomic working conditions have 10% fewer sick days and are twice as productive as those working without these improvements.
Risk Mitigation
MSDs present a huge liability to companies, which means risk mitigation can be a major benefit. What is the potential liability from MSDs? The World Health Organization has identified MSDs as the leading contributor to disability worldwide, impacting 1.71 billion people. Lower back pain, a common MSD developed from improper seating and posture, is the largest MSD, afflicting 568 million people.
Employees who develop a demonstrably work-related MSD are prime candidates to file workers' compensation lawsuits. With the evolution of hybrid workspaces, developing an MSD at home is now another area of risk for employers who ignore ergonomics for these spaces. Companies are taking steps to provide ergonomic support to their remote workers to address this risk. Haworth, Humanscale and SitOnIt, three of our strategic partners, offer special pricing for ergonomically sound products for the work-from-home environment.
Are You Prepared to Meet the Requirements of Office Ergonomics in 2022?
Hybrid workspaces, the great resignation wave and attracting the right talent are dominating the attention of businesses worldwide. Providing state-of-the-art office ergonomics in 2022 is a valuable tool you can use to address these issues.
Pacific Office Interiors can help you meet the challenges of delivering cutting-edge office ergonomics in 2022. Let us show you how we can integrate our skills and experience with the ergonomic innovations of our strategic partners like Haworth, Ergotron and Humanscale to provide your organization with a state-of-the-art solution. Contact us, call 818.735.0333 or email us at hello@poi.bz today to learn more.