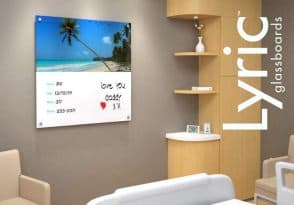 RaspberryMed Lyric Glassboards
Lyric Glassboards
These versatile glass boards make it easy to take care of your staff's communications needs while contributing to the look of the room. We can help make your ideas sing and when you need new artwork or additional boards, we're a phone call or email away from delivering a solution. Any vertical Lyric Glassboards can feature a 2″ rigid styrene border with a u-track that allows you to change out the background artwork or color again and again. Just slide out one design from behind the dry-erase glass surface and slide in a new one. Use it to post custom signage, change out training materials, or do quick redesigns.
Take your Glassboards to the next level with an energy-saving, ultra-thin LED back light (not available for magnetic boards), magnetic backing, marker tray, and rare earth magnets.
Contact us about how you can improve your office space with Lyric Glass boards!