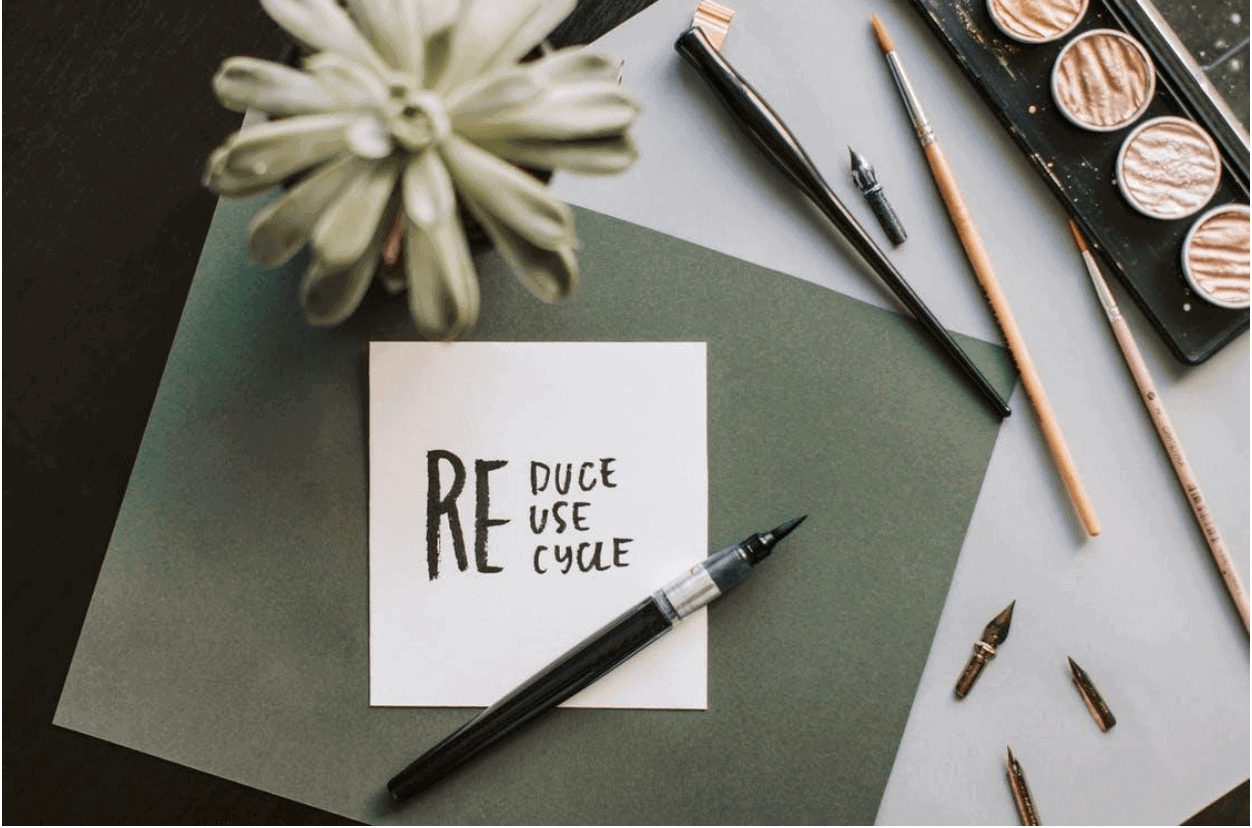 Sustainability at the workplace
By Lindsay Anderson and Unatti Sharma, Studio Specialists at POI.
We've all heard the big three "Re" Words: Reduce, Reuse, Recycle. But to make this "motto" a part of our lifestyle, there is one more big "Re" word that we've come to understand the importance of – Research. In our previous blog post, we focused our research at COVID, and its effects on our pursuit for a greener world. We examined this from an overview perspective, and through our personal lens. For this blog post, we took a deeper look into the Sustainable offerings and efforts in our industry. One learning we gained from this exercise is that we need to unlearn what we are comfortable with and continue to educate ourselves on how we can best serve our planet by making conscious consumer decisions – at least wherever possible. 
"This blog post will not be a call to action, but rather a celebration highlighting some products and materials that we came across when researching manufacturers who are rolling out innovative and environmentally friendly lines."
Sustainable living is a responsibility each of us should be taking on collectively – and individually. It starts with the choice to expand your knowledge, and it starts with the choice to care. Coming from the consumer industry, we need to realize that we can influence changes – with correct information and education where we possibly can.
Materials: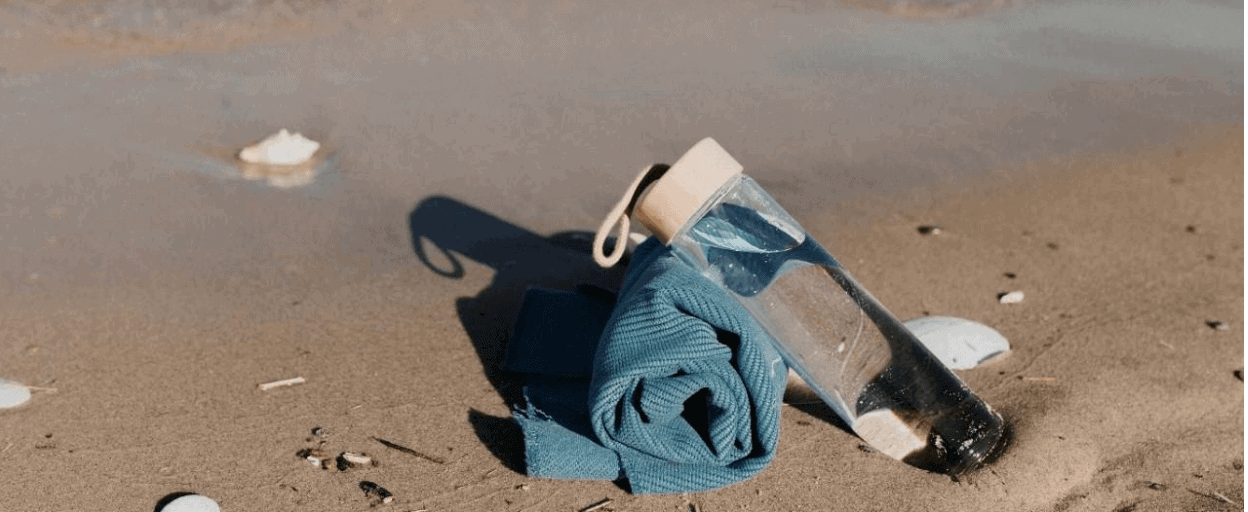 Haworth Oceanic Story – turning "discarded marine plastic to beautiful fabric. For every two kilograms (four meters) of Oceanic fabric, one kilogram of waste is removed from the ocean, and one meter of fabric equates to 26 plastic bottles. 
https://blog.haworth.com/content/spark/en/articles/2020/from-discarded-marine-plastic-to-beautiful-fabric.html
Ultrafabrics introduced its first renewable plant-based material called Ultraleather® | Volar Bio. This is just their beginning to their 2025 mission to include biobased and recycled materials into 50% of new products. They also are actively dedicated to eliminating waste and reducing their production water-footprint.
Carnegie Fabrics is another one that comes to mind because it notes itself to be a PVC Free company. PVC is a big contributor of Dioxin in our environment. As a company, based off their research they decided to remove the offering of PVC containing fabrics. They introduced their own line of alternatives to the Vinyl, called Xorel – which is a high-performance woven alternative that is Plasticizer and chlorine free. 
Various of our favorite fabric manufacturers also have options to recycle fabrics/samples – which we will try to do to reduce waste.
Other products in our materials study were Eco Leathers made from various types of plants, waste, and mushroom biproducts that are all regenerative materials. We find this intriguing and are hopeful to see a lot more of these coming up for a sustainable alternative.
Products:
Interface has been a big name in our industry for their celebrated efforts on their climate take back initiative. They have recently evolved from their line of Carbon Neutral product to now having recently launched a Carbon negative carpet line. 
Humanscale Smart Ocean Chair must be in the list when mentioning exciting products and initiatives. This task chair is the first task chair made with recycled fishing nets. This launch signifies a simple innovative chair that does its part to help reduce pollution in the oceans!
https://www.humanscale.com/smart-ocean-chair/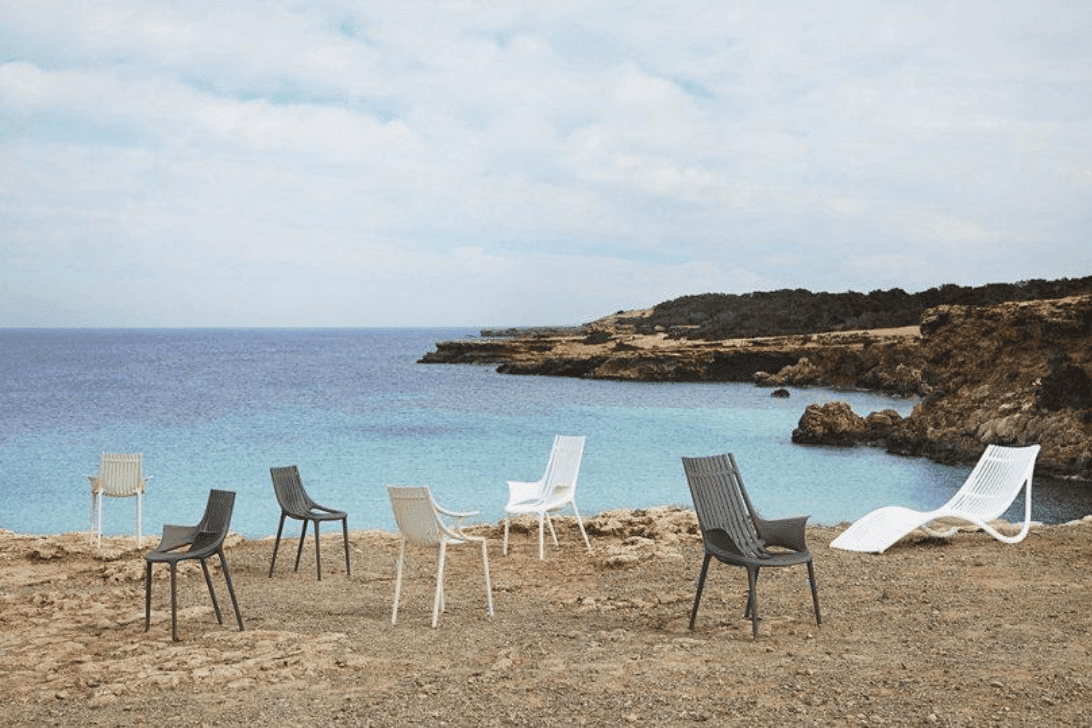 Like the Humanscale chair – we found this great outdoor product by Spanish Company Vondom, that used waste collected from the Mediterranean Sea for their product. Their action is as inspired as their sea-breeze evoking design! 
https://mymodernmet.com/gavin-munro-full-grown-tree-furniture/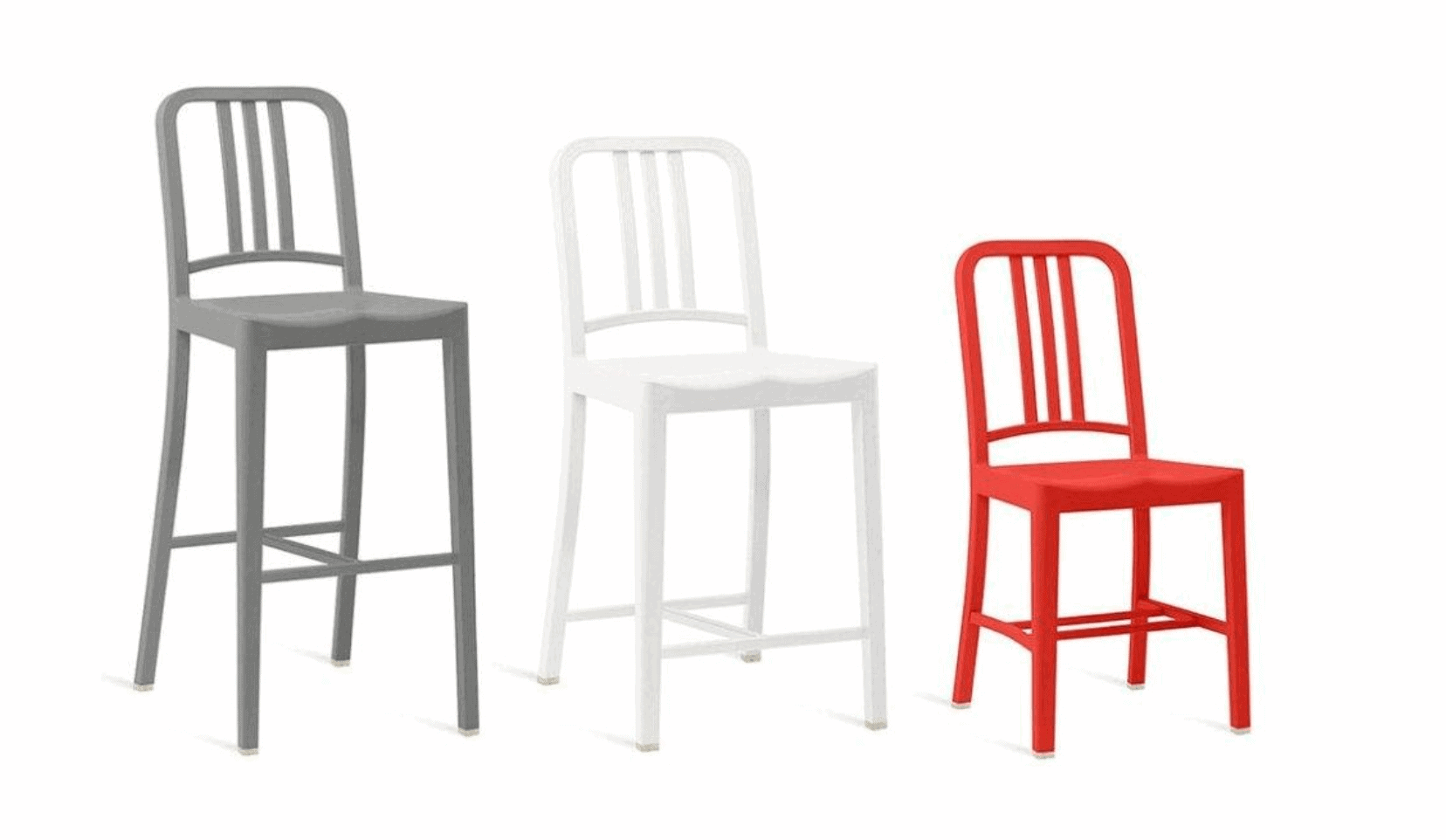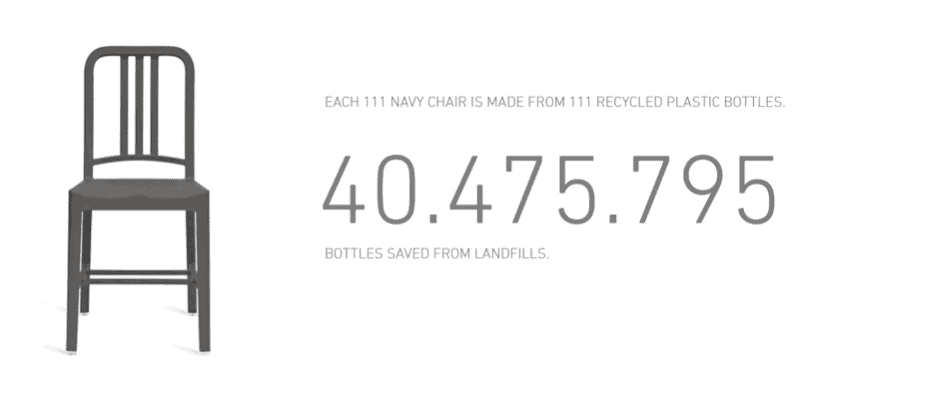 Emeco Navy Chair is an iconic, simple, and beautiful product created from aluminum originally dating to when the company started. Emeco in collaboration with Coca Cola also created the Navy 111 chair – which was created using 111 recycled PET bottles! 
We not only appreciate their mission – but also their website – they have some unique bits that caught our eye such as the "Own Your Impact" infographic measures the carbon footprint of each of their products. Not only that, but they are a Made in USA company.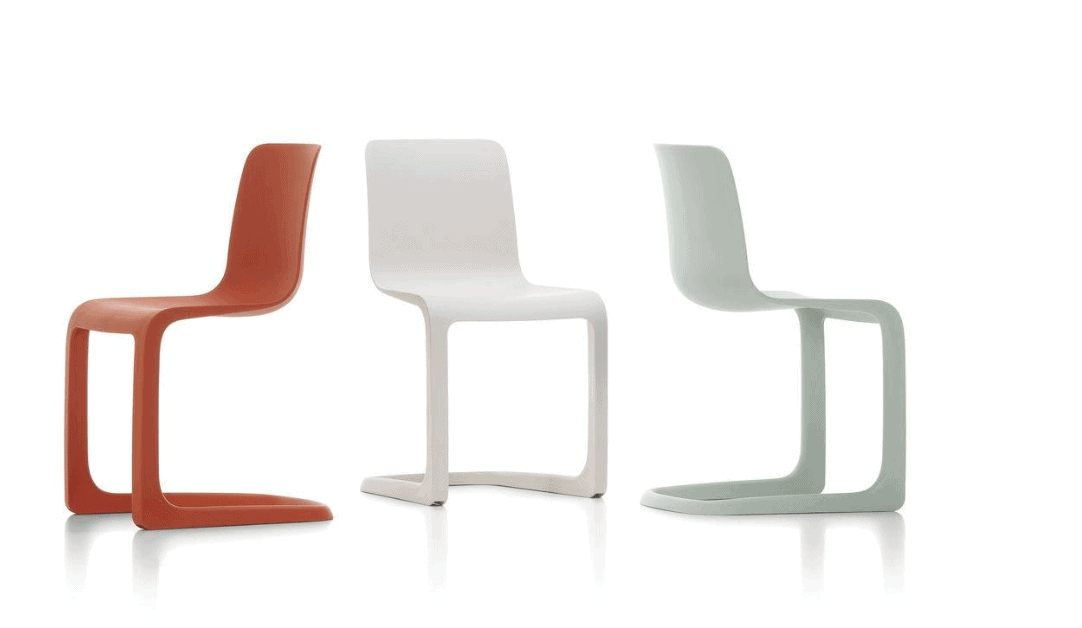 Vitra Evo-C Chair boasts not only a beautiful design, but their product is developed trying to omit all non-essential elements, and thinking about products from the perspective of circular economy – from creation to the end of its life and how it will be broken down. They also re-launched some of their existing iconic designs to be more recyclable than before – which reflects Vitra's attitude towards sustainability.
TenJam – Duraflex 
Our next spotlight is on Furniture Lab as a manufacturer also has made commitment to sustainability. We loved that their Headquarters are powered by Solar Panels. Their tables + metal is sourced from recycled product.
Concluding Thoughts… 
Not only in our industry, but in many consumer-based industries, sustainable innovations and practices are already in play all around us. We came across many examples such as in the fashion industry using recycled plastics for innovative fabrics, or phone cases that are made from plant-based plastics that are actually compostable. These are but two examples, but the list is never-ending! Not only should we be thinking about sustainability with products – but also packaging since this is a big waste generator.
Living without consumption may not be possible, but it is our choice to consume consciously. As designers at POI, we promise to continue researching, and making environmentally conscious recommendations for our clients wherever possible as our contribution to this movement. 
To keep this celebration going, we invite you, our reader, to share some of your favorite products or even everyday practices of how to live a more conscious life.