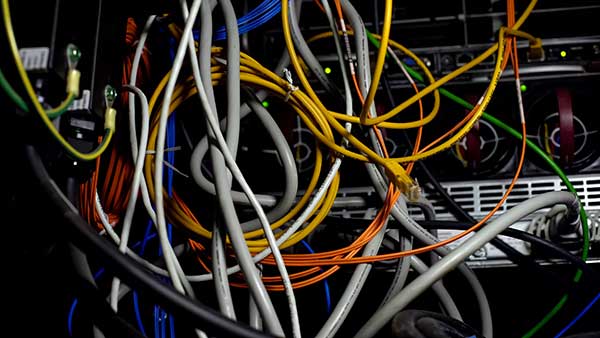 Technology-Enabled Furniture
Do You Want Power with That?
Although technology-enabled furniture has been around for decades most of these solutions focused on the management of power and data within workstations, desks and tables. It wasn't that long ago we were first asked, "Can we get chairs with integrated power and charging capability for our customer waiting area?"
A novel request at the time, technology-enabled furniture has evolved into a customer, client, student and patient expectation. People expect to be able to power up their devices and, in some cases, connect to the internet or other networks, wherever they are and at any time.
​Today, a growing number of our premium furniture partners offer lines designed to support digital devices in any setting, including waiting areas, lobbies, lecture halls, conference rooms, and more. So, when your project calls for tech-savvy furniture, Pacific Office Interiors can help.
Equipping Conference Rooms with Technology-Enabled Furniture
Conference rooms have the highest level of user expectations when it comes to technology-enabled furniture. Not long ago, a conference table with built-in 120 VAC power outlets elicited oohs and ahhs. Today, users expect that anyone can come in, at any time, and make a technology-enabled presentations, regardless of the power and data requirements of their devices.
Attendees and presenters also expect to be able to charge their devices, from their seat, either from USB power adapters mounted in the conference room tables or wireless charging pads around the perimeter of the table.
Providing Upgradable Power and Data Capabilities
It's no longer taboo to use a smartphone, tablet or laptop during a meeting. On the contrary, it's understood that meeting participants rely on those devices to contribute to the meeting and need reliable power and connectivity to do so.
The technology behind power and communications support can change, especially with USB and network connections. To reduce the impact of technological changes on the useability of their furniture, we help our clients select technology-enabled furniture designed to accommodate future upgrades.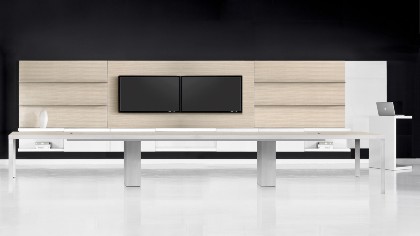 Take the Uffizi Conference Tables from Touhy Furniture, for example. Touhy builds their tables with customizable spaces for options, like expansion slots in a PC. Today, USB 2.0 and 3.0 are the industry standard for connecting and charging digital devices. Having a USB outlet for each person makes sense.
But suppose the industry develops a new USB standard with a new connector form factor. With flexible tables like the Touhy Uffizi, you can remove the old ports, replace them with the new port or cover where they were with a blank faceplate.
Audio/Visual and Lighting Control
Conference rooms need controls for sound, video projection and lighting so participants can present complex data and concepts visually. Technology-enabled conference room furniture accommodates these controls, often in a flush mount to keep everything out of the way when not in use.
Computer Labs, Programming Offices and Training Rooms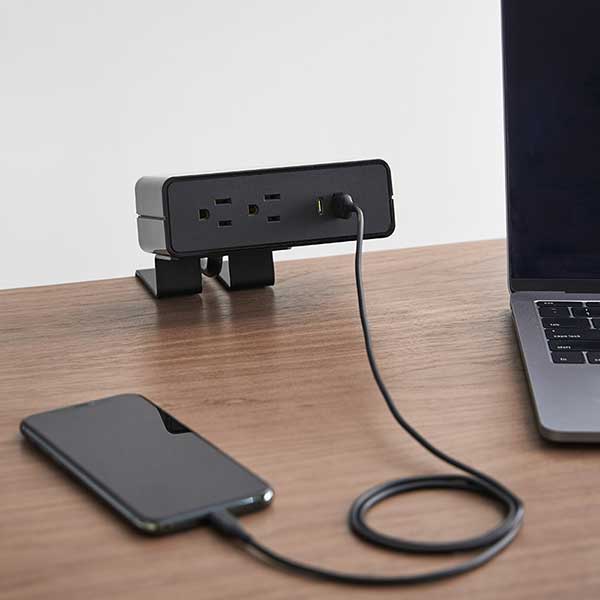 People naturally assume the desks and workstations in computer labs and programming offices come standard with enough power and communications connections, however, they don't always come with cable management features, something we help our clients add to the specifications. We particularly like Humanscale's NeatTech line of products.
Technology-enabled furniture for training rooms mirrors that of conference rooms and classrooms. Every trainee expects to have dedicated power outlets and USB ports for their devices. Plus, they expect network connectivity to access training materials and platforms. Course instructors need controls for A/V equipment and lighting to deliver course content.
Choices for training rooms include tables with integrated USB and power ports or clever add-ons like the Humanscale NeatHub, a portable device for power and USB connections.​
Equipping Offices for Technology-Enabled Furniture
The highest tech piece of furniture in an office must be the adjustable height desk. Fixed height desks are relatively easy to equip with technology. Adjustable height desks, on the other hand, toss a wrinkle into the mix; how do you accommodate the different cable lengths for every position of the desktop?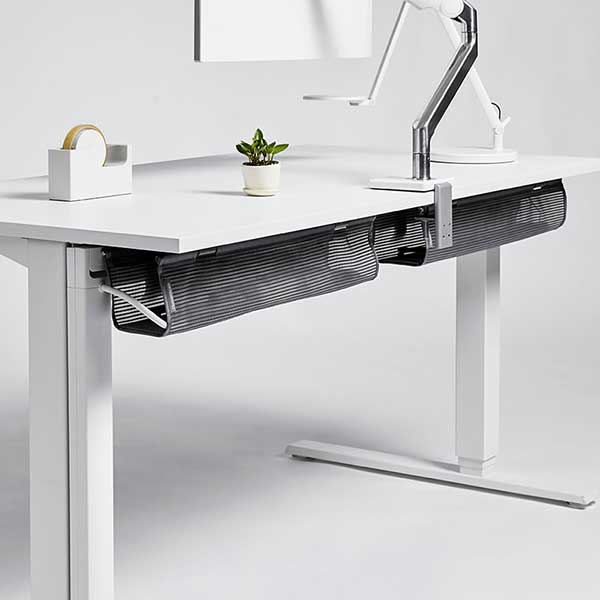 Cable management, or more appropriately, cable bundling, provides the perfect solution. Think of it as the equivalent of the umbilical cables used in the space program. Depending upon the application, NASA's umbilicals carry power, communications, telemetry, life support and propellant. The engineers bundle the various tubes and cables inside a flexible sleeve, keeping them together, protecting them from damage and eliminating snag risks.
The same concept applies to umbilicals for adjustable height desks. The products we offer can encase the power, video, peripherals and data cables in a flexible sleeve. The sleeve keeps the cables neat and eliminates kinks and snags as the desk moves. Coupling this solution with an under desk mounted CPU holder allows the user's computer to maintain a fixed distance between the desktop as it raises or lowers, making cables even easier to gracefully manage.
Waiting Rooms and Lobbies
Even in a waiting room or lobby, people expect to stay connected. It's clear that digital device users feel the need to use any "downtime" to answer emails, view their work or school documents or simply decompress with some phone-based entertainment while they are waiting to see a doctor, catch a plane or get their car serviced.
The furniture common in these waiting rooms and lobbies provides a variety of locations for USB ports. But, given the minimalist style of chairs popular in these spaces, side and coffee tables are often the best candidates for technology connectivity. We have several partners who manufacture furniture that is perfect for these areas with USB capabilities built-in, as well as others who provide add-on solutions. ​
Technology-Enabled Furniture for Education
Technology permeates all levels of education today, creating additional connectivity and power requirements for facility managers. For example, many school districts provide students with a tablet starting in the first grade.
This trend means students need power for their devices. Charging racks are an option but are impractical when students must take the tablets home and use them all day in class. Providing USB power and data connections for each student resolves this problem.
Inductive or wireless charging represents an even better solution. Desks and student seating with inductive surfaces allow students to recharge and power their devices while using them. Lost, forgotten or damaged cords are no longer a concern.
High School and College Needs
High school and college students may prefer to bring their own technology (BYOT) to class, whether a tablet or a laptop. USB can power tablets, but laptops usually require standard 120 VAC. Some of our manufacturers make technology-enabled furniture with 120-volt outlets, especially for computer bars, workstations and business office setups like those found in hotels.
Teachers, Professors and Lecturers
Teachers, professors, lecturers and others responsible for delivering course content also have technology-enabled furniture options. Special desks for teachers offer all the capabilities of integrated workstations found in offices with the added ability to move the desk around the classroom, allowing the teacher to visit any student while keeping power and network connectivity.
Lecterns also include the ability to connect and control technology for presentations, lectures, panel discussions and more. Lecterns often also need mobility, allowing the user flexibility from where they present.
Incorporating Technology-Enabled Furniture Into Your Organization
Just about any space will benefit from technology-enabled furniture. Since people expect connectivity anywhere in and around your facilities, it makes sense to meet these expectations ahead of time. We've been working with this trend from the beginning and can help you add the benefits of digital support to your design. Contact us to learn more about your technology-enabled furniture options.