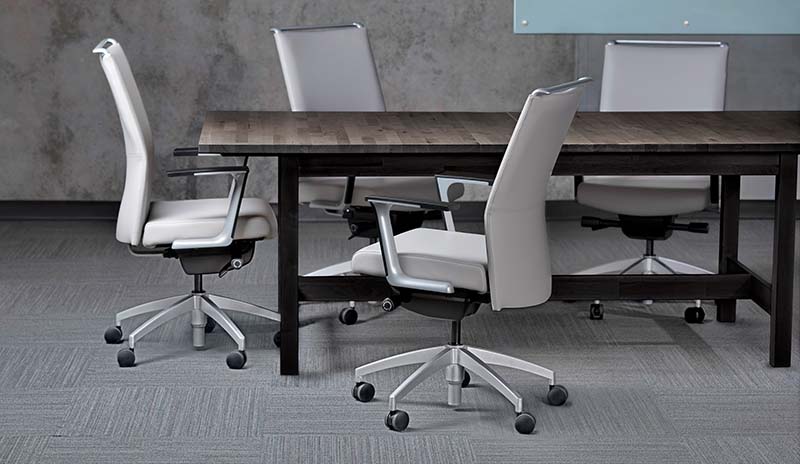 Office Furniture Maintainability
We design many spaces for organizations of all kinds, including corporate offices, educational institutions, hospitals, hospitality venues, and government offices. Our clients have often spent a lot of time thinking about how their new furniture will look, feel and function in their space, but relatively few spend as much time thinking about what it will take to maintain their new furniture. That's why we feel that it is so important for us to make sure that their office furniture's maintainability becomes an integral part of their furniture selection decision-making.
The Three Kinds of Office Furniture Maintainability
We would all like products that continue to look new no matter how much use they get. Even though our premium manufacturers create the most durable and reliable office furniture available, all furniture requires some maintenance, usually in three specific areas:
Regular Cleaning and Sanitizing
Preventative Maintenance
Repair when needed
Cleaning and Sanitizing
Organizations want furniture finishes that their cleaning staff or service can clean with the products, tools and techniques they already use. Materials and finishes that require unique cleaning products and processes will complicate the cleaning efforts, resulting in infrequent care, improper care, damage or all three.
Sanitizing has always been a priority for medical facilities. However, since COVID, almost every organization also focuses on sanitization. Surfaces and finishes that previously received cleaning on an as-needed basis, now may require more stringent and frequent attention to meet state, local or organizational guidelines.
Fortunately, many of our manufacturing partners offer fabrics specifically designed to withstand routine sanitization, such as bleach-cleanable fabrics like Haworth's 57 Chevron.
Preventative Maintenance
Most furniture requires some routine preventative maintenance to maintain its beauty, reliability and durability. Natural finishes are the most common examples, although specialty fabrics and fine leathers can require special attention, too.
Wooden outdoor furniture, natural wood desks and granite tabletops are excellent examples of surfaces requiring regular preventative maintenance. For example, one of our clients selected beautiful wood outdoor tables, chairs and benches. The manufacturer recommended (as did we) having the furniture sealed at the factory, but the client decided not to purchase that option. So, we told the client they would need to sand and revarnish the pieces annually to maintain their appearance and longevity. The client chose to forego the sealer, the sanding and the varnishing. Not surprisingly, the client eventually called us, saying something was wrong with the furniture. The only problems with the furniture were those due to not following the recommended preventative maintenance.
Furniture manufacturers who use specialty fabrics like silks, damasks and fine leathers usually recommend sealing their furniture to protect against stains and discolorations. We encourage clients to seriously consider the manufacturer's sealing recommendations when choosing furniture with natural and delicate surfaces.
Other than protecting fabrics and finishes, commercial furniture requires little in the way of preventative maintenance. The springs, hinges and hydraulic features in most of our higher-quality manufacturers' furniture are generally self-lubricating, eliminating the need for detailed inspection and maintenance. When clients select a piece that requires preventative maintenance, we ensure they have all the information they need to perform it or advise them to contract with us for this service.
Repair When Needed
Some furniture gets more wear and tear than others. Chairs are an excellent example. Wear-points on chairs include arm caps, casters and pneumatic mechanisms. Many of our premium manufacturers have specifically designed their furniture to support the easy replacement of commonly damaged parts.
Take the Stance Healthcare Legend Armchair, for example. Stance designed this chair so users could easily snap off and replace damaged arm caps.
Natural Finishes
Natural finishes are beautiful, unique and help tie inside spaces to nature. However, these surfaces naturally change color over time when exposed to sunlight and the elements. This is seldom a problem for indoor furniture but can pose a problem years later when the organization redesigns its space with existing furniture.
For example, let's say your organization is going to repurpose some furniture, some of which was in offices that enjoyed bright sunlight through south-facing windows and other furniture that was in offices with far less light. The color of the different pieces of furniture may not match due to the different exposures each one has had to sunlight.
Artificial Materials
Modern laminates now aesthetically compete with their natural counterparts but are far more maintainable. Laminate desks like Global Furniture Group's Zira laminate desks come in over 20 finishes and provide a sophisticated look that is perfect for almost any office. What could make a low-to-no maintenance product like the Zira better? Sustainability. Furniture that uses laminates, steel, glass and other manufactured materials reduce the consumption of hard-to-replace natural materials like walnut, teak and rosewood.
Similarly, faux leathers are an excellent alternative to genuine leather. As with laminate surfaces, they rival the natural material in most respects, making them an ideal choice where durability and cleanability top the performance requirements list. SitOnIt's Sona Conference Chairs are available with Sili-Tex backs and bottoms, which comply with the Healthy Hospital Initiative (HHI). These finish options are also sustainable, replacing natural leather.
Is Office Furniture Maintainability on Your Requirements List?
Office furniture maintainability has a greater impact than companies think. In addition to affecting how you keep it clean and looking good, it also affects the reliability and durability of your furniture. Contact us for your next project, and we'll ensure maintenance gets proper consideration.