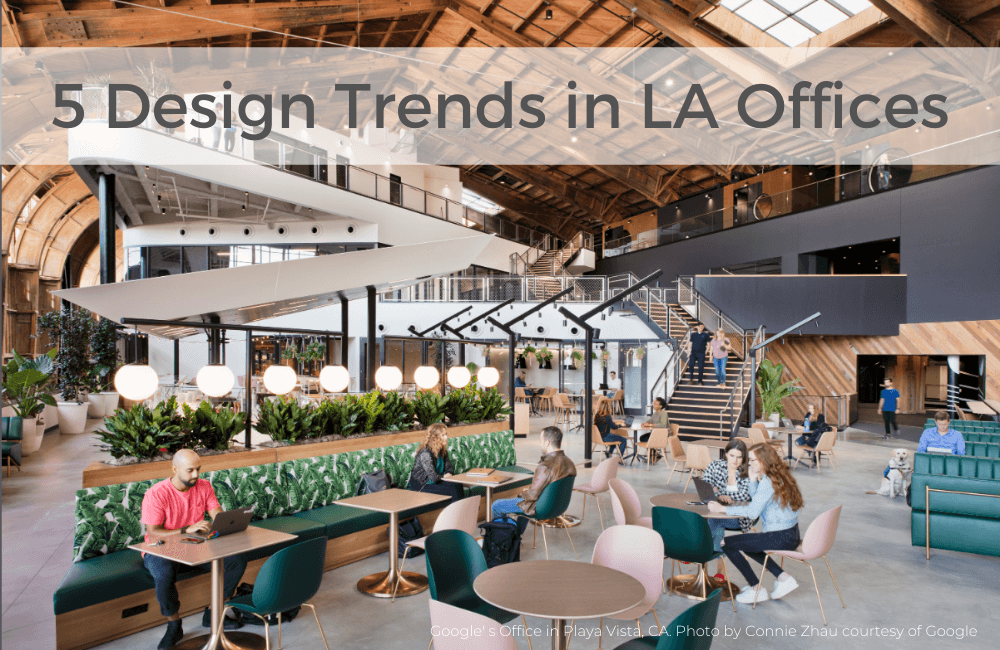 What's New with LA Offices
The era known for it's constricting cubicles, harsh fluorescent lighting and bland finishes has come to an end. Our team at Pacific Office Interiors has had the pleasure of creating a variety of office interiors, from innovative tech startups to accredited universities. With that, we've been able to evolve with the new wave of changing design styles. Today, we're delving into the new world of commercial interiors that are built to inspire innovation. Here are some of LA's most loved design trends, and how they can bring life to your office and creativity to your employees.
1. Non-Conventional Workspaces
A perfect example of a nonconventional workspace is none other than Google's Playa Vista office, pictured above. The hangar was originally home to Howard Hughes' Hercules H-4   – can you think of a better location to inspire Google's employees? It isn't just Google- a multitude of companies are moving away from the traditional corporate office and into a non-typical location that brings unique inspiration to employees. Situations like this are becoming more popular for commercial spaces, with the evolving trend of rehabbing old spaces for new purposes. Bringing old and new elements together is a unique and creative way to make your office it's own.
2. Biophilic Design
It's no secret that humans are spending more and more time indoors nowadays. Biophilic Design is a direct reflection of this, melding the biological connection between humans and nature through interior design. Elements like natural light, plants and running water help bring the outdoors into the office which positively influences employees. The benefits are endless, including less stress, improved cognitive function and increased wellness. We go even more in-depth with the positive effects of Biophilic Design in our blog post.
3. Resimercial Design
Resimercial design promotes wellness by bringing the comfort of home into work. Cozy, comfortable offices make coming into work more desireable and can attract talent that might normally be working remote. This supports multiple workstyles, offering comfort in unison with productivity, whether you are on a sofa or at a traditional desk. Haworth's all-new Cabana Lounge line is a perfect example, providing a casual yet private space with an upright position for productivity. Other types of ancillary furniture, or more laid back furniture that supports a variety of postures, are rapidly gaining popularity, as they are necessary for the more relaxed elements of resimercial design. Either way, resimercial design is making offices more inviting and less "corporate".
4. Open Office Plan
Now more than ever, companies are breaking down barriers and embracing the open office. This style offers a "less corporate" and encourages creativity in its design. In turn, this is accelerating the need for private spaces within a non-private office. Furniture is allowing for more collaboration, while also acting as a space for someone to work independently. This is where modular furniture comes into play. Lightweight pieces that enable easier customization or reconfiguration of spaces that can be adjusted as the company grows. Acoustic properties are also necessary for concentration in an open floor plan. Mixing comfortable material with fabric to absorb sound, creates easier ways to focus at work. BuzziSpace's BuzziBracks, are a perfect example. They offer a "room within a room feel" with a curtain that provides some privacy and acoustics.
5. Experience-Driven Spaces
Adding elements of fun can make for a happier, more creative workspace overall. A less corporate-feeling office becomes a place for employees to experience the social- aspect of work without having to leave the office. Allowing them to be physically active and out of their chairs briefly throughout the day can increase productivity overall. The most unique piece we have seen cater to this would be non-other than BuzziJungle by BuzziSpace. This unique piece can be a place to climb, work, or even host a meeting. Comfortable ancillary-based spaces that allow for interaction with pieces like sofas, cafe-style tables flexible enough to have an informal meeting or offer a relaxed way to collaborate. The rise of coworking spaces and their culture perfectly showcase how this office style is becoming more desirable for companies and their employees.
Sources: