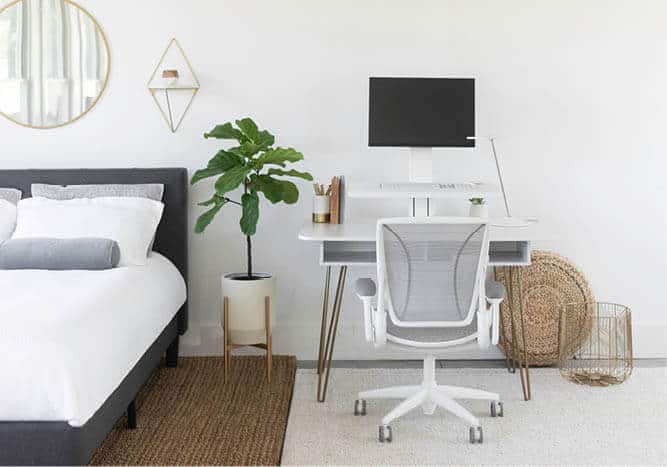 Are We Set Up for Success at Home?
As we reflect on what 2020 was going to bring us, we can only imagine we are not the only ones that did not anticipate mandated stay-at-home and social distancing orders. The changes it has made on our professional and personal lives is changing daily. The need to work from home has always been an option, but what does it entail when it is your only option. Are we set up for immediate success? Have we thought about the distractions of our spouses, children, animals, etc.…? We asked three of our employees, each in very different living situations what their working day looks like. Jenifer Halverson, our Studio director, is married with 2 boys aged 9 and 10, Diego Bravo, an Account Lead, is married with a baby girl due in July and Erica Castillo, an Account Lead, lives alone.
What does your daily routine look like to get your day started compared to having to commute into the office?
Diego:
"Not having to commute to work has changed my start time. My wife and I start the day off with our morning dose of coffee and news. After the COVID news update, we eat breakfast and I get my work day started. We have been able to save money and time from making our own coffee and avoiding the daily stop at Starbucks when driving into the office"
Erica:
"My daily routine is a bit like going into the office where I get ready for the day, head out, stop at Starbucks before heading into the office. Now, I will get ready for day, brew coffee at home and get myself situated at my desk. It has been bringing me some peace of mind knowing that I don't have to rush out the door to beat the morning traffic. I now have more availability to workout in the morning since I don't have to leave really early in the morning."
Jenifer:
"It is much more relaxed! There has been an upside to all of this; while we maintain a similar routine of waking up, making our beds, changing out of jammies and grooming, it is tremendously less chaotic. I am definitely not missing the frenzied gathering, leaving and commuting part of the morning."
What does your home office set up include?
Diego:
"My desk is currently sitting in front of our wall AC unit. I sit here because it is the only place that I can connect directly to the internet modem, which is what my CPU requires. On warmer days, especially in this current 95-degree weather, sitting in front of the window is not ideal. Although I am directly in front of the AC unit, I block the rest of the cold air trying to circulate through our apartment. My desk is our dining table from Ikea, and I am using an outdoor plastic chair on glides."
Erica:
"My home office setup is very similar to what I have in our main office, which includes some of my favorites. A height adjustable table, Haworth Very Task chair and a Humanscale footrest. These are definitely must-haves for a hard days' work"
Jenifer:
"Our trusty 2007 mockup furniture is holding up well to daily use by the family. I managed to get the last webcam left on Amazon. We have a work surface, storage, printer, a CPU and monitor set up. I am missing my height adjustable table from the office, however with constant interruptions for food, schoolwork and the dog needing to be let out, I am getting up enough."
What do you wish you had to make for a better workspace?
Diego:
"A home office would be nice with central air and an outdoor space to take breaks (we can dream, right?). Realistically, a sit to stand desk for occasional working at a standing height and an ergonomic task chair with a cushioned seat."
Erica:
"I spent a lot of time setting up my current office space to see what works best for me and I feel like I have all I need to be successful at home. I did have two succulent plants on my desk at the office, so maybe that is the only thing I am missing to make it feel like "home"."
Jenifer:
"It may sound kind of traditional, but for the fixed desk, a keyboard tray would be nice. We need lots of storage, but a super sleek and simple table and mobile pedestal set up would be my preference."
What does your daily work routine look like?
Diego:
"When I wake up in the morning, I check my emails to see what needs to get done first. I then do my morning routine with my wife and then sit down at my desk around 8:30. I break for lunch around 1pm. My wife and I will eat together in the living room watching TV. After my workday is over, we take a walk around the neighborhood and complete a small online workout video. After our workout, we make dinner and sit down for a movie or a show on Netflix to fully decompress before we go to bed."
Erica:
"At the start of the day, I typically write down a to-do list on my notebook and check off things as they get completed throughout the day. Because I tend to run fast, this helps me organize my priorities and daily deliverables. I will take a look at my calendar to see if any video call or conference calls are scheduled, which also helps me set the tone for the day. In summary, it is usually get ready, drink coffee, respond to emails, make a few calls, respond to more emails, etc. I usually end my day between 5-7pm, depending on current project deadlines."
Jenifer:
"I have switched to part time so I can focus on helping my kids. My mornings are supporting my 3 rd and 4th graders with their schoolwork, class meetings, cello lessons and enrichment activities. My afternoons are dedicated to my work. My husband is an essential worker and his schedule has afforded us a few weeks of him going in early in the hopes that he can be home around 12:30 to field the childcare needs to that I am able to be engrossed in my work. With being part time now, it has now made me synthesize my focus, effort and responsibilities down to the most crucial tasks for the business."
Are you experiencing any distractions? How are you managing them?
Diego:
"Currently, our apartment complex is retrofitting for earthquakes. It is causing a lot of noise and they work Monday-Friday from 8-5pm. They said it would only take a month to complete, so in the meantime, I manage the noise by wearing headphones to listen to music."
Erica:
"I haven't really experienced any distractions. It was a bit hard in the beginning when the stay at home orders were first ordered, but now because I have everything I need for my home office I have been able to concentrate and focus on the days' work. I find that listening to music helps increase my concentration and boosts my mood, but there are days where it needs to be completely silent to keep me focused and get me through the day. If I do find myself steering off track, I'll look at my project list and get right back to it."
Jenifer:
"The difficulty is feeling spread thin between all of the new, additional responsibilities inherited when the world went on pause. Truth be told I am probably not managing them the best I could. I am naturally a responsible person; I tend to overextend my care and concern under normal circumstances and keeping that under control in what are very extreme conditions is a minute to minute challenge. I am feeling accountable to many things that I have never dealt with before and it has become exhausting.
What is the most challenging aspect about working from home?
Diego:
"The most challenging aspect is not having the proper space. My wife and I are expecting our first baby in July so between baby planning and baby arrival and not having the proper desk setup, it is a bit stressful."
Erica:
"From a design perspective, not having all materials and finish on hand as you normally would when you're in the office. Most finishes can be shipped to your home, but just takes a bit more time. From a sales perspective, not having many in-person meetings for internal and external purposes, but telecommunications have definitely helped this aspect."
Jenifer:
"The most challenging aspect for being is feeling like I am making an impact."
What are you doing to balance your personal and professional life?
Diego:
"My daily start time and end time have been consistent since we started working from home. While I take breaks, I am disconnected from my computer and emails, but am always accessible for those urgent requests."
Erica:
"Having a consistent work schedule and sticking to it."
Jenifer:
"Nothing specific, it is a show up and manage situation each day. Every day is different."
What are you doing to disconnect from work at the end of the day?
Diego:
"I try to answer all important emails that have to be addressed right away. By addressing them first, I do not think about them for the rest of the night. The emails that are not the most important or have no urgent deadlines get responded to first thing in the morning. Just like if I were to leave the office at 4:00pm and an email comes in at 4:45pm, I may glance at it, but if it is not important, I will wait until the next day to respond."
Erica:
"I have to shut off the computer. Once the monitor is off, that is my cue to walk away from my desk and leave everything else for the next day."
Jenifer:
"Ending the day to tend to my family is the biggest driver. If I could and sometimes do, thanks to my laptop, I would be cooking dinner and responding to emails, but let us face it, no one does good work in that type of environment. My one big discovery through all of this is I am definitely a better employee when I am not multi-tasking."
Do you prefer to work from home or work in the office? Or do you prefer a mixture of both?
Diego:
"I prefer a mixture of both. There are times where I can sit in the office and get a lot done, but also work from home and stay focused. Especially with our daughter on the way, working from home will be nice because I can help my wife more with her."
Erica:
"A mixture of both. It has been great working from as I have more time for myself rather than spending hours in traffic. I would like to work in the office more if we had the ability to work in an office or workstation for the day. Having the option to work in an office could increase focus and concentration and working at an open workstation could increase more collaboration."
Jenifer:
"As we learn more about the virus and how to manage it, the ideal mixture would be both. I miss my co-workers, we spent so much time together prior to this. The loss of collaboration and interaction is felt on a mental, physical and spiritual level. I would also argue that having the flexibility to tackle a project or task when you can create your ideal environment to do so is a benefit for both an employee and an employer."
As we all imagine what our dream workspace would include and what the environment would look life, we all have our wish list. Whether it is as complex as a noise free area to the simplicity of adding a plant to your desk, every wish is important in a time like this. With no true timetable of when we will be allowed to start working in the office again, our workspaces need to be a comforting place even if we are already working from home.
The most interesting finding in our co-worker's answers was that they would like a mixture of both working environments. Remote work has been an interesting topic here at POI, some would prefer to do it always and some would prefer going into the office every day. With the only option of having to work from home, for an unpredicted amount of time, we really enjoyed hearing that our co-worker's miss the office. We are a very collaborative team and are always asking others what they think about this layout or this fabric and we are happy to hear others miss it, as much as we do.