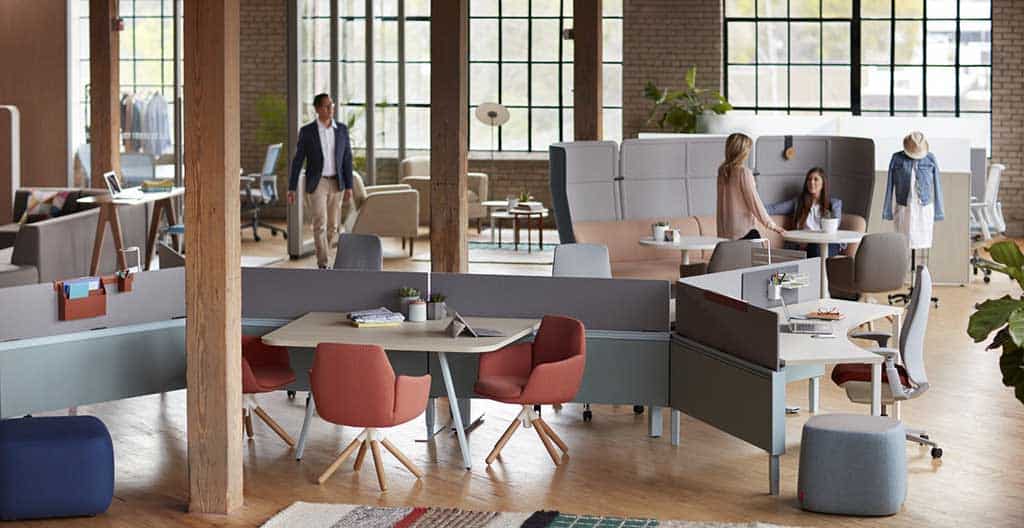 Commercial Interior Design Trends for 2024
In the face of rapidly changing corporate landscapes, workplace design is experiencing a significant metamorphosis. As decision-makers, architects, designers, and facility managers alike recognize the profound influence of the workspace on employee productivity, satisfaction, creativity, and overall business performance, the field of commercial interior design is helping to create new possibilities for the offices of 2024 and beyond. Here are some of the innovative commercial interior design trends for 2024 set to shape workplaces in Los Angeles and beyond.
Elevated Biophilic Design
The advantages of biophilic design, which incorporates elements of nature into commercial office spaces, are no longer in dispute. When properly integrated with office interior design, organizations report boosts of 15% in employee well-being and 6% in productivity. And executives are buying-in, as they recognize the imperative of creating spaces people truly want to be in.
Elements like living greenery are no longer relegated to walls but are designed to move easily, thus allowing for space division and modifiable sight lines. Capturing and managing natural lighting remains essential, whether through skylights or strategic design planning. Incorporating natural and complementary materials such as wood and stone will continue to be commonplace. Tech pioneers like Apple and Google already create immersive natural experiences with mature landscapes and water features within their stunning office designs, and these types of designs are now expected in offices in and out of the tech sector..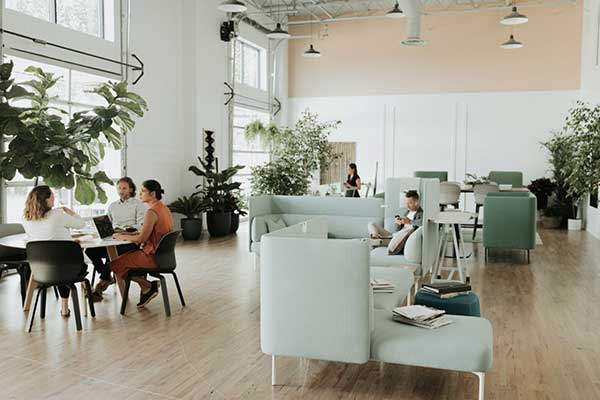 Flexible Spaces for Future Growth
One of the commercial interior design trends for 2024 is flexible space. In fact, with nearly 50% of businesses planning for an increased headcount in 2024, the need for flexible office spaces will become paramount. Mobility-focused furnishings and layouts allow seamless transformation between collaboration, focus, and socialization modes, enabling companies to adapt their interiors without substantial renovation costs.
Health-Centric Building Certifications
Employee well-being has become a critical agenda for top executives, with 70% willing to invest in healthier building structures. In 2024, certifications such as WELL, Fitwel, and RESET will establish the new norm, signifying a commitment towards occupant health optimization. These certifications are performance-based and data-driven systems for measuring, certifying, and monitoring features of the built environment that impact human health and well-being. Each system addresses different areas ranging from air quality testing to active lighting and the provision of wholesome nourishment.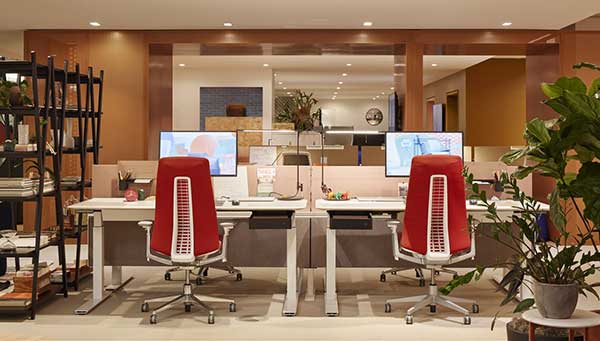 Sustainability as Standard Practice
Eco-consciousness will permeate interior office designs as companies demand transparency about  sustainability. Workspaces will continue to prioritize sustainable solutions but will remain value focused. Expect to see more time and energy invested in the reuse of existing assets and more awareness of the impact of disposal. For new procurement, solutions such as recycled and sustainable materials, rapidly renewable resources, and low-VOC-emitting (volatile organic compounds) products will continue to be in demand.
Comprehensive Sensory Design and Commercial Interior Design
The intersection of cognitive science and office interior design will transform the workspace experience, with careful attention given to each sensory touchpoint. Workers expected to work in offices will demand visual access, noise control, inspiring work environments, a wide range of curated product solutions that support different work modes, and curated sensory features to boost comfort and creativity.
Localized Workspace 'Neighborhoods'
The era of 80% cubicles and 20% offices has all but vanished. Expect to see demands for more dynamic interiors focusing on designated "neighborhoods" for different work modes, such as collaboration, rejuvenation, focus, and learning. Even these areas will be highly adaptable to provide options for rapid reconfiguration.
Office Interior Design for Technologically Advanced Workplaces
Technology is advancing faster than ever, and the commercial interior design trends for 2024 reflect that. Cutting-edge technology will be integrated into workplaces for personalized experiences, with features like biometric access, proximity sensors, voice-activated lighting, and AI room scheduling becoming common. Solving the challenges of creating highly functional meetings for all participants, regardless of their geographic location, will remain in the coming year..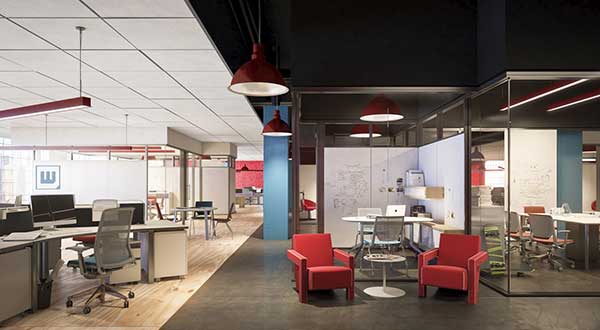 Culturally Expressive Spaces
Workspaces will evolve to be physical affirmations of brand identities. Expect environmental graphics, custom art, exhibit-style displays, and bold use of color, all designed to communicate and reinforce the organization's narrative.
Your Guide to the Commercial Interior Design Trends for 2024 and Beyond
Is your Los Angeles office design prepared for the design revolution of 2024? Reach out to us today to explore how we can incorporate these commercial interior design trends for 2024 in your workspace. Our commercial interior design services are evidence-based, tailored to your business objectives, and encompass strategic planning, sustainable furniture specification, change management guidance, and installation. Embrace the future of workspaces today.