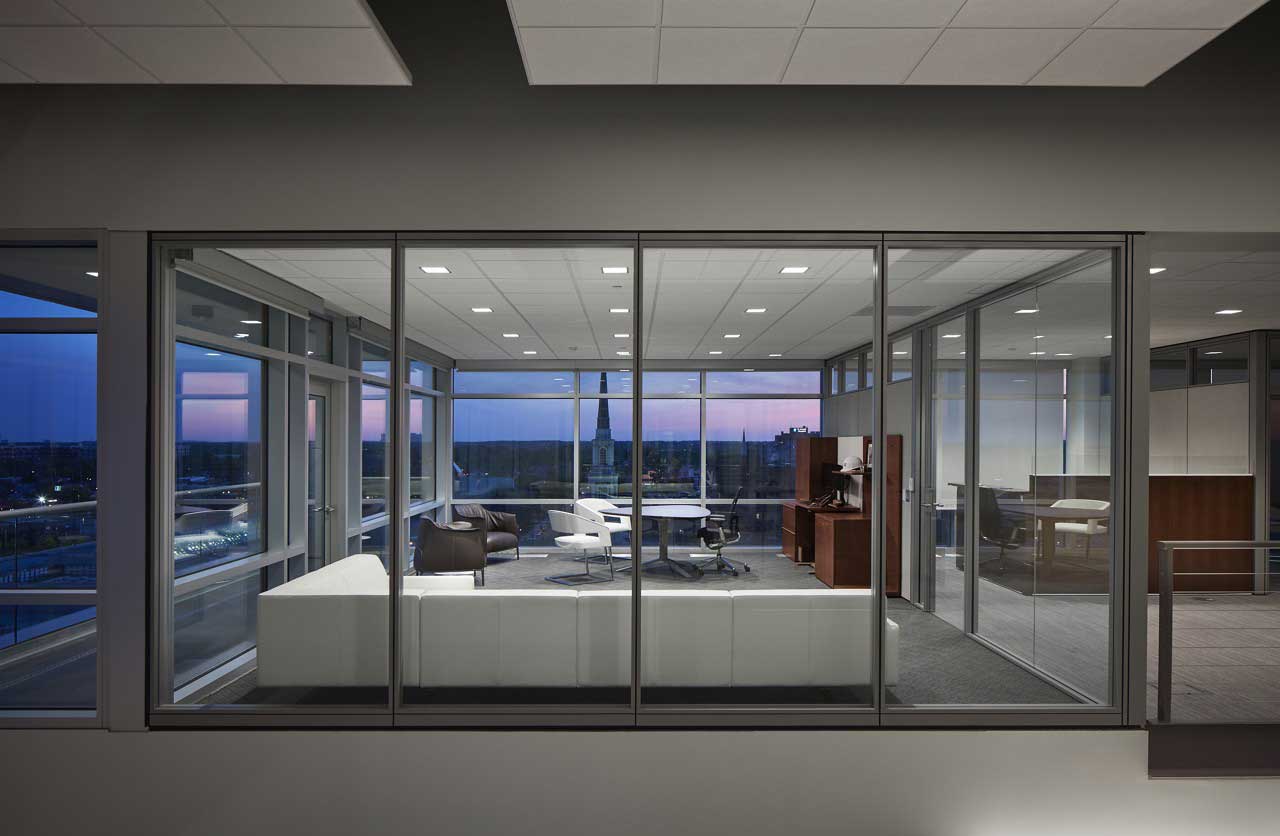 High-Tech Conferencing Furniture Improves Collaboration
High-Tech Conferencing Furniture Improves Collaboration
Collaboration is necessary for increased sales, higher customer satisfaction, faster innovation, reduced employee turnover, and improved employee morale. But the increase in the number of remote workers, with a significant push from COVID-19, has made effective meetings more challenging. That's one reason why improved employee collaboration ranks high on many organizations' lists of objectives. At Pacific Office Interiors, we use high-tech conferencing furniture and technology to help improve collaboration, no matter where the participants may be.
Traditional Conference Room Furniture and Design Inhibits Collaboration
Traditional conference room design and furnishings have been ineffective for years, especially since organizations started using digital conferencing tools like Zoom, Skype, Teams, and similar technologies.
The problem starts with conference room design, which have been traditionally modeled after "boardroom" style layouts, featuring a screen at one end of a long conference table with participants neatly spaced around it. This design used to work fairly well with entire teams physically present, where everyone could see and hear everyone else.
However, traditional designs stumble badly once remote participants are added to meetings.
Remote participants…
May not be able to see many of the on-site attendees
May not be able to see or identify the active speaker.
May be confined to a tiny window on the single primary conference room display.
May not be able to be fully heard by on-site attendees
In short, they cannot be equal participants in the meeting. But on-site participants also have issues. They…
Often lack necessary power, charging or network connections
May not be able to hear remote participants
May not be able to be heard by remote participants
When seated along the sides of the long conference table, may be forced to look to the left or right for the duration of the meeting
May be compelled to use spaces that are too large when meetings include a small number of on-site participants
Typically lack the control over individual audio or video settings
This arrangement creates a visual and audible inequality that can lead to disengagement, feelings of disrespect, inability to participate fully, and other inefficiencies for all attendees.
Modern Conference Room Designs Energize Collaboration
Our high tech conferencing furniture and meeting ideas for 2023 are designed to eliminate most hurdles and inequalities among onsite, WFH, and remote attendees. Today, we routinely design modern conference rooms with high-tech conferencing furniture for improved collaboration, including:
Unique tables enabling remote participants to see everyone, like the Nevers Eventi Conference Table
Improved connectivity to keep onsite employees connected to both the network (WiFi or Cat 6e) and power supply (corded and cordless), like the Power Solutions line of products for retrofitting and upgrading non-tech enabled furniture by the Global Furniture Group or the AirCharge wireless charging accessory by Dekko
Technology-enabled furniture for new spaces like the Ready-to-Ship Kayak Boat-Shaped Conference Table from Scale 1:1 with optional built-in power and data connectivity
Integrated acoustics (wall panels, ceiling baffles) for privacy, audio clarity, and reduced distraction for employees near the meeting, like the distinctive Sound Absorbing Wood – Byron 002.1 acoustic wall panels or the Acoustic Ceiling Grid – Prichard 001 suspended baffles by CSI Creative
Use of free-standing pods and nooks for small, impromptu meetings like the Openest Conference Booth from Haworth or the Gateway Wall Mounted solutions from Nienkamper supporting the work-from-anywhere trend
Create larger, reconfigurable full-height conference walls with the Enclose Frameless Glass 2 Channel system from Haworth or moveable, foldable acoustic partitions like the BuzziScreen from BuzziSpace
Effective use of high-efficiency artificial (parabolic and baffled fixtures) and natural lighting
Energy-efficient, effective temperature control for enclosed meeting rooms with advanced HVAC designs including variable air volume distribution, wall washing diffusers on sunlit glass walls, and more.
| | | |
| --- | --- | --- |
| The Ready-to-Ship Kayak Boat-Shaped Conference Table promotes a feeling of equality | Create conference spaces everywhere with the Haworth Openest Conference Booth | Folding BuzziScreens from BuzziSpace allow easy space reconfiguration |
High-Tech Conferencing Furniture Improves Collaboration Between Offices
One of our recent clients has a need to improve the collaboration between their eight offices. They've engaged us to create a solution with a standardized conferencing design to facilitate, encourage, and enable real-time collaboration between employees, regardless of where they are or what equipment they use.
The ingredients of this standard design will give our client the best combined analog and digital conferencing solution available, including:
Visual equality conference tables
Technology-enabled furniture, both new and retrofitted
Flexibility allowing reconfiguration as needed
Particular attention to acoustics using wall, ceiling, and moveable sound control materials
Glare-free and natural (where possible) lighting, adjustable for a variety of meeting requirements
Design decisions and furniture selection that enable an upgrade path
Support the work-from-anywhere option for onsite employees
A "no conference space reservation" policy to further support spontaneous collaboration
Equal treatment and participation of participants, regardless of where they are
Discover How High-Tech Conferencing Furniture Improves Collaboration
If your conference rooms and other meeting spaces were designed more than 3 to 5 years ago, and you find your on-site/work-from-home staff, remote partners, and other stakeholders are not collaborating as well as they could, Pacific Office Interiors may be able to create a solution for you. If you're ready to learn how high-tech conferencing furniture and inspired design can improve collaboration, contact us today.