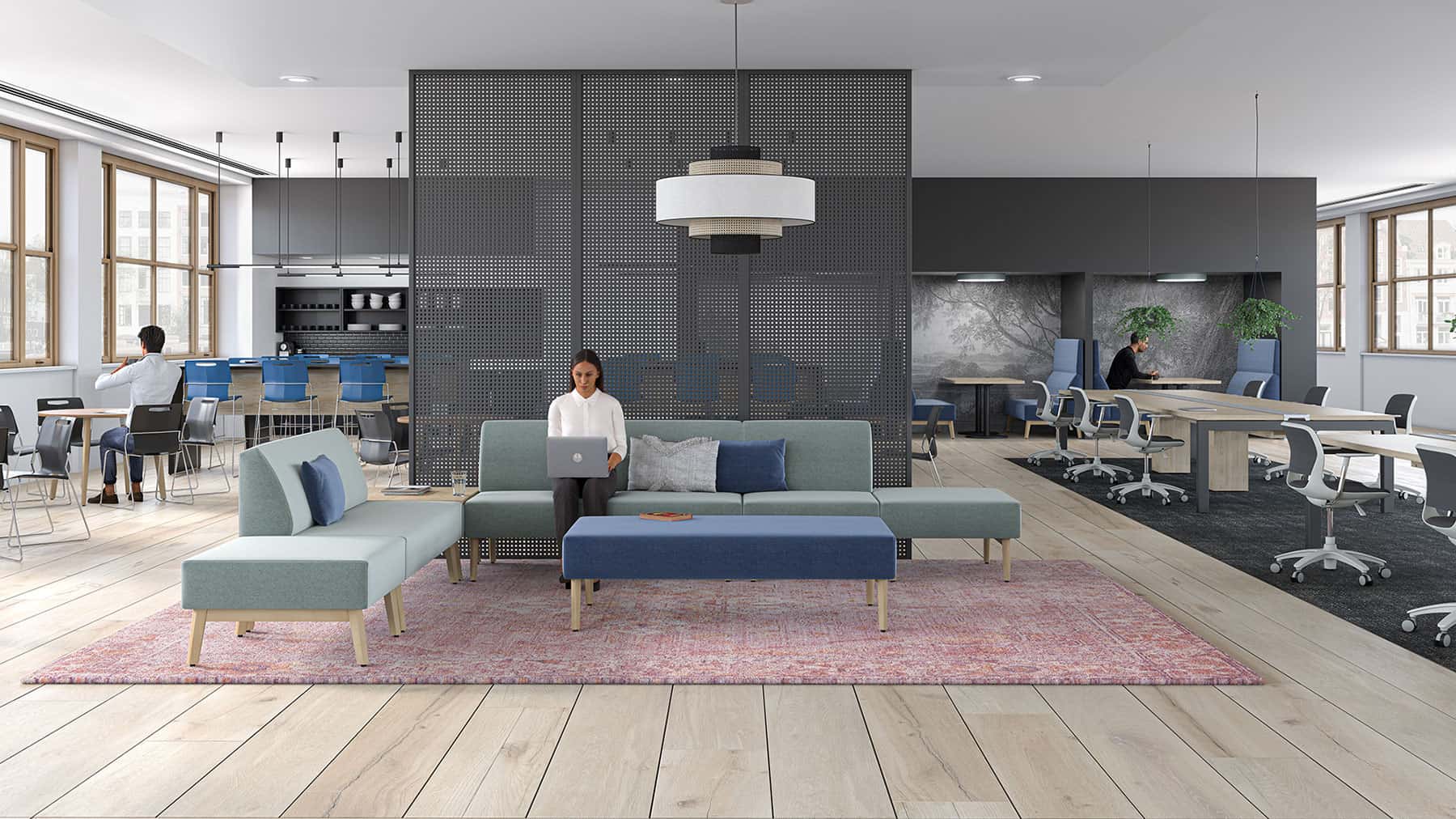 Visitor Experience Design — Beyond Resimercial
Pacific Office Interiors has been creating spaces people want to be in for decades. Though the process of design remains consistent, functional needs and aesthetic sensibilities change.
The term "resimercial", coined in 2017, was embraced because it accurately articulated a consistently expressed desire to create more inviting spaces. Today, we see continued value in bringing a multi-disciplinary approach to interior design, capturing thinking from digital, retail, hospitality, residential, and commercial to make highly impactful spaces. Visitor Experience Design dovetails well with this goal.
What Is Visitor Experience Design?
A visitor's first impression can influence an entire business relationship. In the online world, there's continual discussion about User Experience (UX) design. In UX, the developer tries to create a compelling, engaging, and inviting digital experience to entice users to purchase goods and services or simplify their access to pertinent information.
Visitor experience design for officing strives to create a positive impression of the company, organization, or school from the start. Why does this matter? Putting people at ease and helping them relax, from the outset of their visit, helps reduce stress and anxiety while putting them in a more positive frame of mind.
Visitor Experience design can influence how easily relationships are built/fostered and can have a similar effect on attracting and retaining employees.
Visitor Experience Design In Practice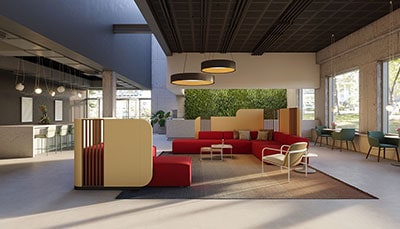 Visitor Experience design complements commercial design by including elements of hospitality design to create warmer, more welcoming, and inclusive entrances and work spaces in offices and other non-hospitality buildings. Reception areas are a good example of the difference Visitor Experience design can make in a business relationship.
The first impression employees, prospective employees and other visitors get when entering a business is often a reception area that acts as guard gate, separating occupants inside from those outside. Picture your typical reception area – receptionist behind a desk, rows of chairs for visitors, fluorescent lighting, table littered with outdated magazines…all adjacent to a locked door leading to the rest of the office, how would this space make you feel?
By contrast, a reception area designed with Visitor Experience in mind would leverage design elements to welcome and engage its occupants from the moment they enter the space. Think warm lighting, comfortable seating, access to views, food and beverage, "phygital" (physical and digital) details, all coming together to foster a narrative that reinforces the idea you're wanted and cared for within the space. Areas like these become natural gathering places for doing the important work of relationship building and brand reinforcement.
Visitor Experience designed spaces don't stop at the reception area. The same approach to design should be woven throughout the office envelope.
Furniture and Accessories for Visitor Experience Design
Visitor Experience design often couples natural materials, such as reclaimed wood, natural stone, or supple upholstery, with other mood enhancing elements like lighting, biophilia, and color, to create targeted experiences for occupants.
Among other amenities, Visitor Experience design might support the inclusion of comfortable seating options like the Mex-Hi Line of lounge furniture from our manufacturing partner, Haworth, or quirkier furniture like Tenjam's Cube Stools, each with a common goal of inviting visitors into the space and delivering an experience that demonstrates their value to the organization.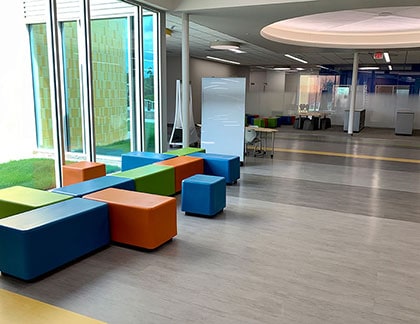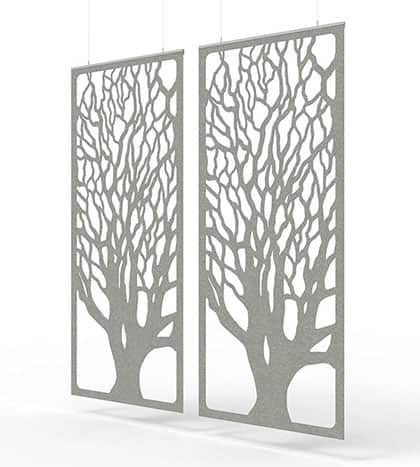 Our partner manufacturer Calyx, manufactures the Glass Marker Walls system that adds both visual privacy, with opaque panel options, and expanded brainstorming surfaces, with write-on ability. These panels can incorporate additional design details like calming outdoor scenes, while providing visual and acoustic privacy.
CSI Creative, another manufacturing partner, provides an alternative acoustic treatment in the form of soundproofing blankets like the Josephine 009.
Visitor Experience Design for Employee Retention, Attraction and Returning After Covid
Our clients are in a consistent struggle to find, attract and keep the best talent. At the same time, they're working hard to attract employees back into the workplace after COVID.
As a result, employers are rethinking traditional office solutions, introducing hospitality elements to create an environment that provides employees with workplace features and alternatives that are comfortable, supportive, adaptable and attractive, including:
"Resimercial" design details, home or Third Places options while at work
Natural lighting and materials
Large, open work areas with intentionally curated sight-lines
A sense of safety with proper distancing between work areas
Visual and acoustic privacy
A blend of "phygital" (physical and digital) details that balance real-time information access and collaboration with comfort and restoration
Flexible workspaces that can easily be reimagined and reconfigured
Additional ways to collaborate with in-person and remote staff, colleagues, clients and vendors, including video sharing furniture like Enwork's Concurrence VS Scene D318
Hoteling options that empower employees flexibility around where they work, including solutions like the Haven Pods from manufacturing partner, Senator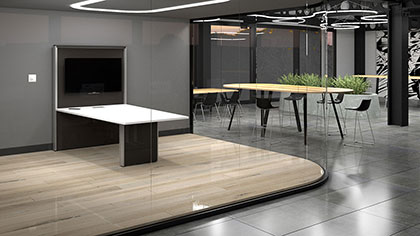 Let Pacific Office Interiors Help
If you want to explore how Visitor Experience design can enhance your facilities, including the experience of clients, students, customers, vendors, patients, and employees, we can help. Contact us today to discuss your needs.